Positional change may see Tomasso Benvenuti fulfil his potential for Italy
Tomasso Benvenuti has been around for a while now, promising much, delivering little - but this time may be different.
Last Updated: 28/01/13 3:09pm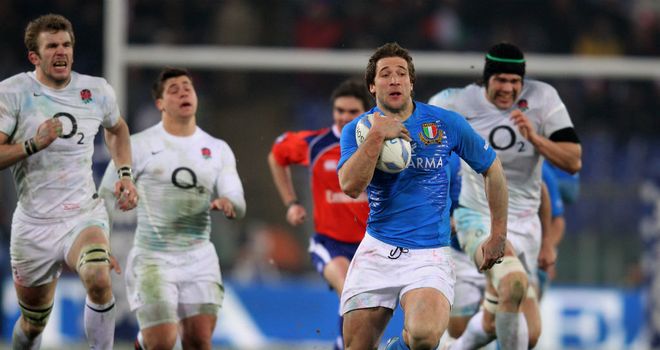 There are not going to be any 'rising stars', or genuine newcomers in this Italy team - it's the same old faces. Benvenuti seems to have been around for years but he is still only 22.
He was always tipped as Italy's most likely try-scoring threat, but the ball very rarely got as far down the Azzurri back-line as him.
The same applied with his club Treviso, but this season he has been playing as an outside centre for club and country, and he is seeing much more of the ball.
Italy will as usual be pinning their hopes on Tresviso men and their France and England-based stars.
Benvenuti has been in fine form for the ever-improving Treviso, scoring a magnificent try against mighty Toulouse in the Heineken Cup in early January.
A fine breakaway was finished off by Benvenuti out outpaced the covering Toulouse players in thrilling fashion, and the following week he played a key role in Treviso's win over Ospreys.
If Italy can create half-a-yard for Benvenuti - and admittedly it is a big 'if' - he will create chaos.