Hartley - All to play for
Dylan Hartley admits he heads into the business end of the campaign spurred on by last season's failings.
By Jamie Casey
Last Updated: 01/05/11 4:20pm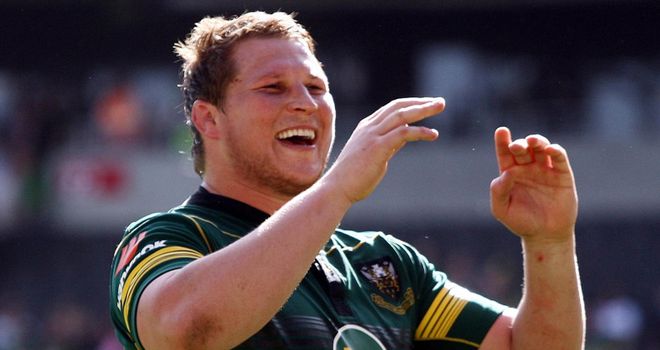 Northampton captain Dylan Hartley admits he heads into the business end of the campaign spurred on by last season's failings.
Saints face Perpignan in Sunday's Heineken Cup semi-final and are likely to participate in the Aviva Premiership play-offs, with fourth-place all-but secured.
Last season Hartley's side were beaten quarter-finalists in the Heineken Cup and lost out in the Premiership play-off semi-finals to Munster and Saracens respectively.
Hartley, though, claims Saints are much better prepared this time around, albeit with a few fresh faces.
"If anything we are probably refocused now," he said. "As a group we sat down and spoke about last year.
"We got to that point of a semi-final in the Premiership and a quarter-final in the Heineken Cup.
"Then within a week it was all over. No more games, see you next year.
'Refocused'
"Luckily enough we are in the same position this year and we have refocused. Every week is like a cup final for us now.
"Very few had even got to a quarter-final so this is a big thing for this group of players and it is exciting.
"(The inexperience) does not worry me, I think we learned enough last year. I think in knockout rugby this is the sort of team that can turn up and win any game.
"It is quite good to sit back and look at these games coming because if you don't win them you are off on holiday next week really.
"We have everything to play for and the motivation is there."
Northampton head coach Jim Mallinder insists French side Perpignan will not be taken lightly, despite their lowly position of ninth place in the Top 14.
'Quality players'
"They will be disappointed to be in the position that they are in their league but I think they have some quality players," Mallinder said.
"If, like we have done, you do your research on the side you know that up front they are a formidable unit there.
"Some very big men, experienced at playing hard, tough, French physical rugby and again behind they have some match winners so it is going to be a tough game.
"I know that the French teams rate the Heineken Cup and their priority is always to qualify and to be in it.
"I think they probably had a little look at their league and their position and they think they have a very good chance of qualifying through this competition."