Foden hungry for success
Ben Foden says he wants to help put Northampton ¿back on the map¿ with victory over Leinster Heineken Cup final on Saturday.
Last Updated: 20/05/11 5:16pm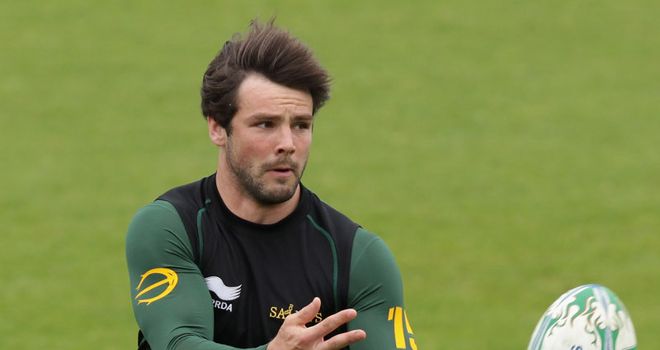 Ben Foden says he wants to help put Northampton "back on the map" with victory over Leinster Heineken Cup final on Saturday.
Since returning to the Aviva Premiership in 2008, the Saints have won the European Challenge Cup and LV=Cup, but a major trophy still eludes them.
They saw their hopes of league success slip away against Leicester last weekend, meaning the showdown at the Millennium Stadium is the last chance for silverware this season.
And Foden believes that Northampton need to show that they are a part of the European elite and get back to where he believes the club belongs.
"We need a major statement because this club is all about major silverware and winning major finals," the England full-back said.
Trophies
"We want to get this club back to where it should be, which is being in the top four in the Premiership and winning trophies.
"We want to compare ourselves to the Leicesters of the world. We have been building every year and now we have taken a stride forward on last year.
"But we must start winning major trophies, so it's important that we take a chance like tomorrow."
Northampton lifted the Heineken Cup in 2000 before enduring a lean spell that included relegation to the second tier of English rugby.
Foden thinks that a win in the Heineken Cup final would take Northampton right back to the top after the dark period in their history.
He added: "Winning tomorrow would be massive. Obviously Northampton were in a dark place a few years ago when they got relegated.
Chance
"But now we have reached our first major final - if the Heineken Cup and Premiership are the two you aim for - and we need to take this chance with both hands. We want to put Northampton back on the map."
Leinster go into the contest as favourites but Foden says there will be almost nothing to choose between the two sides.
He said: "It will come down to who wants it more. I don't believe anyone will run away with it, the two teams are pretty evenly matched.
"Leinster pride themselves on winning in European rugby, and they want to win it to add to their collection of trophies they have already built up.
"It will be a massive game between two of the best sides in Europe, who play probably the most attractive rugby in Europe, meeting each other on a grand occasion. Hopefully it will be a great game, for the neutral fan as much as everyone on both sides."