Dylan Hartley faces anxious wait to see if he will go on Lions tour
Dylan Hartley will find out on Sunday if he will go on the Lions tour after his sending off at Twickenham.
Last Updated: 27/05/13 2:30pm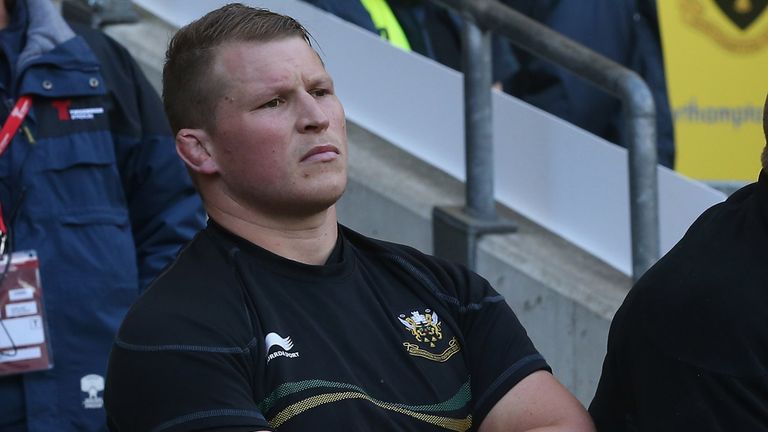 The Northampton and England hooker was dismissed seconds before half-time at Twickenham after allegedly verbally abusing referee Wayne Barnes.
Hartley had been warned about his language by Barnes just two minutes before he was sent off, in the wake of the referee awarding opponents Leicester a penalty - the Tigers went on to win 37-17.
Barnes had told him: "Please keep your comments to yourself or I may have to deal with it. Do not talk to me like that."
A RFU disciplinary committee will sit on Sunday to decide Hartley's fate.
A Lions spokesman confirmed that if Hartley receives a ban which was to rule him out of the second match of the tour, against Western Force on June 5, then he would be replaced in the squad.
"The coaches and the team regather tomorrow (Sunday). There will be an assessment of the situation and it is out of our hands," the spokesman said.
"Warren Gatland has always indicated that these players (competing in Premiership and PRO12 finals) would not play in the first match against the Barbarians but they would have to be available for the second match of the tour.
"That is the criteria for Hartley coming on tour. If he gets a suspension that prevents him from making that second game then that is where we are."
Penalty
The penalty for verbal abuse of a match official ranges between six and 18 weeks and if Hartley is found guilty of any charge stemming from the incident that would end his hopes of going on the tour.
Ireland hooker Rory Best would be favourite to replace Hartley in the Lions
squad, should that situation occur.
Gatland's squad depart for Hong Kong and the first fixture of their 10-match tour on Monday.
Saints director of rugby Jim Mallinder has revealed that Hartley told him the comments were aimed at Leicester hooker Tom Youngs.
"I asked Dylan at half-time and I've just asked him again 'what happened? What did you say?' He said he was talking to Tom Youngs.
"If you talk like that to a player I wouldn't expect anything to happen. Clearly, Wayne Barnes has believed Dylan has spoken to him.
"I support Dylan. He is my captain. If he says he wasn't speaking to the referee and he was speaking to a player on the floor I can only support what he says."
Leicester director of rugby Richard Cockerill said: "We know how Wayne Barnes likes to referee. He likes to be treated with respect.
"To be fair, in a game as big as this you would imagine Wayne would be 100 per cent in what he is thinking. I don't want to see a bloke sent off the field.
"Barnes is a very experienced referee, he is one of the top two or three in the world I am led to believe, that is why he gets these games."