Heineken Cup: Jim Mallinder reflects on Northampton's humiliation
Northampton director of rugby Jim Mallinder admitted he was "embarrassed" by Saints' 40-7 defeat to Leinster.
Last Updated: 08/12/13 9:09am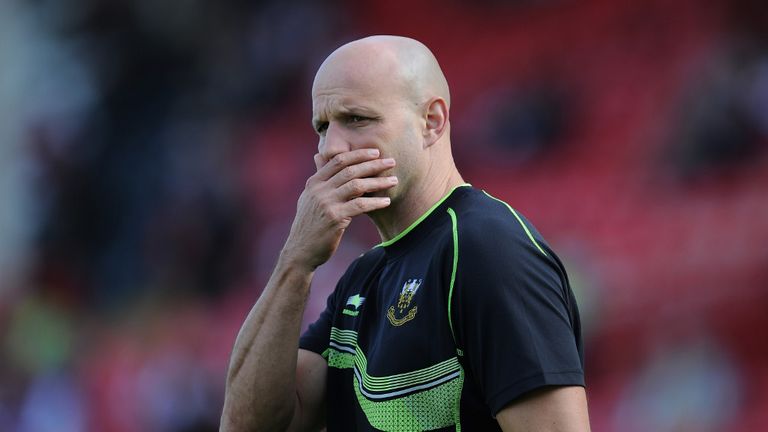 Mallinder admitted the result was the low point of his six-year reign in the East Midlands and that supporters had been let down by a feeble performance lacking in character.
"We were embarrassed out there and came second best. We made a terrible start and that didn't improve," he said.
"Sometimes you make bad starts and have a bad five or 10 minutes, but you at least expect to come back fighting. But we were completely outclassed.
"I don't know why that fight was missing. It was a game we were building up to, it was our big game - at home against one of Europe's finest teams.
"I feel embarrassed because we've let the fans down. We have some great fans here. They love their European rugby. It's a great competition for us but we've messed up.
"We were bad. Everything we spoke about during the week, the opposite happened. We'll need to front up next weekend."
Masterful
Brian O'Driscoll, 35 in January and in his final season, was masterful as he set up the opening two tries for Luke Fitzgerald in his first Heineken Cup appearance of the season.
"Brian gives the group so much. His experience and composure gives the other guys confidence and that's the most pleasing thing," Leinster coach Matt O'Connor said.
"He hasn't been in our environment that much this season, but what he gives to the rest of the boys in training and the field is massive.
"This season that's certainly the best we've played. The first 20 minutes were very, very good.
"The scoreline wasn't indicative of how hard the game was. We played really well and they were a little inaccurate."