More trouble for Armitage
London Irish and England full-back Delon Armitage faces the possibility of further disciplinary proceedings after Saturday's defeat.
Last Updated: 18/02/12 7:10pm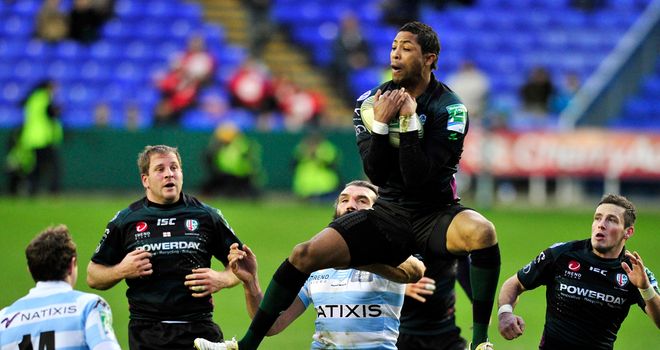 Delon Armitage faces the possibility of further disciplinary proceedings after London Irish's 19-10 defeat at Newcastle on Saturday.
Armitage has become something of a fixture with rugby's disciplinary authorities but was possibly more sinned against than sinner at Kingston Park.
The England full-back was felled by a punch by Falcons lock Adriaan Fondse which led to the South African being sent off in the 60th minute by referee JP Doyle after the intervention of his touch judge.
Armitage was left on the ground holding his head but was roundly booed by the crowd who clearly felt he had made more of the incident then he needed to.
The Falcons fans were further incensed when Armitage charged into a tackle later in the game and appeared to short-arm Newcastle centre James Fitzpatrick.
There was no penalty and the referee either did not see the incident or possibly felt there was nothing wrong with the tackle.
However, many of the crowd disagreed and there is the possibility Armitage could be cited if the independent match commissioner feels he has a case to answer.
Armitage was also at fault for Newcastle's crucial try as it was his pass that was intercepted by Ryan Shortland, the Falcons wing then sprinting across the whitewash.
London Irish head coach Toby Booth was in no doubt that Armitage had been struck.
"I've seen it and I don't think the referee had any choice. It was a punch," he said.
"You have to give credit to the guy who made the interception - it was three on one and he's picked it up off his toes. If he hadn't done that, we would have scored.
"It was a messy game and the Kingston Park factor was very much in evidence. Both sides put in a massive amount of effort but you've just seen why six clubs were trying to sign Jimmy Gopperth.
"You don't want to be making mistakes like we did at the start with a horrible swirling wind at your back."
Disappointed
Newcastle's director of rugby Gary Gold said: "I haven't seen the incident, but I'm sure the referee is not going to make a red card decision very easily and I'm very disappointed.
"Our backs are against the wall and that is one of things you can control and I will be very disappointed if we have let ourselves down.
"You just can't afford to do that and we're lucky we didn't pay a higher price for that sending off."
The result places the Falcons six points behind Wasps at the foot of the table and keeps alive their faint hopes of avoiding relegation.
"The way the other 14 guys played for the last 15-20 minutes was a real sign of character, but we really should not be putting ourselves in a position like that," Gold added.
"It's a happy and relieved changing room we made heavy weather of that. Any win at this stage is an important win and I'm very proud of the character and resilience shown.
"London Irish are one of the best attacking teams in the Premiership and we stuck to our guns and they went through several phases three or four times and we kept them out.
"We were lucky when Ryan scored. I'd just had a call from the medical team that Ryan was really struggling with a bang on the head and he wasn't 100 per cent sure where he was, so if he wants to play concussed like that all the time I'll be happy to give him a bang on the head before the game."