Welsh not short of offers
Chairman Bleddyn Phillips says London Welsh have received "overwhelming" offers of support in their bid to gain Aviva Premiership status.
Last Updated: 05/07/12 5:17pm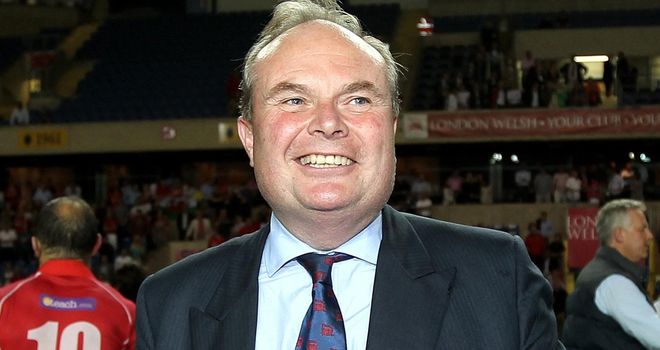 London Welsh chairman Bleddyn Phillips has revealed the club has received "overwhelming" support in their bid to gain Aviva Premiership status.
The Exiles won this season's Championship by beating Cornish Pirates in the two-legged final, only to be told they did not meet minimum standards criteria set down by English rugby's Professional Game Board for Premiership entry.
As things currently stand, Newcastle will remain in the Premiership next term despite finishing bottom by a point behind Wasps this season.
But London Welsh have launched an appeal against the original decision that went against them, with a hearing scheduled to take place on June 21.
Offers
Phillips claims the Richmond-based club have had offers for potential venues to stage their home matches as they attempt to get into the top tier of English rugby,
"This includes not only the general rugby supporting public, but more specifically owners and managers of Premiership clubs and other rugby clubs, as well as leaders of clubs in the Football League and other sporting institutions," he said.
"These offers of help and encouragement extend not only to promises of financial and professional support, but also to offering up, in several cases, sporting venues as stadia where London Welsh might wish to play their 'home' games in 2012/13.
"We are most grateful for this, which to our mind underscores very sharply what we believe to be the fundamental issue at stake here.
"Namely, that any team which demonstrates on the field of play that it has the requisite skills and resources to win through to the top of its division or playing group should be allowed to move on to the next tier, thereby upholding the competitive spirit of sport in general and the ethos of promotion and relegation on merit-based principles.
"London Welsh, in common with other teams already based in the Premiership who ground-share with teams from the Football League, has arrangements already in place to play its 'home' games next season at a top sporting venue.
"It would rank, in our view, as one of the best grounds offering up Premiership rugby in 2012/13, and to our mind makes our case for promotion even more compelling and the reasoning behind its rejection even more difficult to fathom."