Welsh heading for Premiership
London Welsh will play in the Aviva Premiership next season after winning their appeal against the decision to block their promotion.
Last Updated: 05/07/12 5:18pm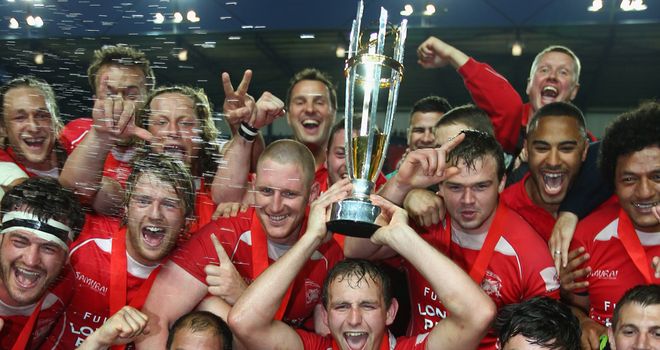 London Welsh will play in the Aviva Premiership next season after winning their appeal against a Rugby Football Union decision to block their promotion.
The Championship winners were originally denied the right to go up after being told they had failed to meet the minimum standards required of a Premiership club.
London Welsh's appeal was heard on Thursday by an independent panel, who spent all of Friday deliberating over the evidence before finding in favour of the Richmond-based club.
The Exiles submitted plans to share Oxford United's Kassam Stadium and their appeal to the RFU has been upheld.
Welsh sealed the Championship title in May after beating Cornish Pirates 66-41 over two legs.
The verdict condemns Newcastle to relegation after they finished bottom of the Premiership last season.
London Welsh were initially told they had failed the minimum standards audit on a number of factors but primarily because they did not meet the requirement for primacy of tenure.
In effect, that meant London Welsh were not allowed to share the Kassam Stadium with Oxford United even though three existing Premiership teams co-habit with football clubs.
London Welsh argued the primacy of tenure rule breached UK and European competition law and was therefore void and unenforceable.
The independent panel, which comprised QCs James Dingemans, Ian Mill and Tim Ward, agreed.
Upheld
"We upheld London Welsh's complaint and concluded that the Primacy of Tenure rule gave rise to an unjustified distortion of competition, contrary to UK and EU competition law," the panel said in a statement.
"While the rule included exemptions for three particular Premiership clubs ('the three club exemption'), there was insufficient justification for the narrowness of that exemption and its restrictive effect on aspirant Championship clubs.
"London Welsh argued and the RFU accepted that the consequence of such a finding was that the provisions that contain the Primacy of Tenure rule in the MSC (minimum standards criteria) are void."
This is the second time the Premiership's minimum standards criteria have failed to stand up to a challenge.
Rotherham complained to the Office of Fair Trading after their promotion was blocked in 2002, leading to a change in the definition of primacy of tenure.