O'Shea slams Falcons tactics
Harlequins boss Conor O'Shea said Newcastle crossed the line in their physical approach to their 9-9 draw.
Last Updated: 02/03/12 11:30pm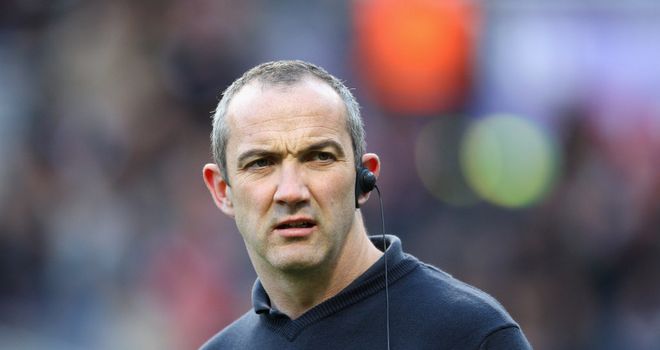 Harlequins director of rugby Conor O'Shea said Newcastle crossed the line in their physical approach to their 9-9 draw with the Aviva Premiership leaders.
An ill-tempered game at Kingston Park saw the Falcons have two players yellow carded as they tried to stifle O'Shea's table-toppers.
Newcastle's game plan looked to have worked as they led 9-6 entering the closing seconds of the match and looking at a big upset.
However, Nick Evans salvaged a draw with a last-gasp penalty, but that did not help O'Shea's mood as he hit out at the hosts crossing the line of acceptable physicality.
"We had to scrap and the atmosphere was febrile out there," said O'Shea. "We wanted pace in the game and we couldn't get that. All credit to the Falcons in what was a very physical game but on more than one occasion, I think the line was crossed.
"The line is drawn at punches in the face, boots in the face and short-arm tackles and yes, I think Newcastle overstepped that mark. When you get a stamp in the face, a punch in the face and short-arm tackles, that's overstepping the mark.
"It was tough and uncompromising and I just hope Newcastle stick to not going over the edge."
But while Newcastle director of rugby Gary Gold admitted he was disappointed about his side's ill-discipline which saw scrum-half Chris Pilgrim and hooker Rob Vickers yellow-carded, he refuted O'Shea's allegations that his players had overstepped the mark.
"We have to front up," said Gold. "You cannot allow yourself to be bullied like we were at Leicester.
"Was it my instructions to go over the top? Certainly not. I never would tell my players to do that. I don't condone any sort of dirty play, but I do ask my players to front up.
"I'm not happy with the ill-discipline we showed at times. You cannot afford to play the game for 20 minutes with 14 men and there is no excuse for players losing their discipline and we will have to address that."