Monye targets title
Ugo Monye insists it would be "an injustice" if Harlequins finished the season without silverware.
By Tony Curtis - Follow me on Twitter @SkysportsTC
Last Updated: 11/04/12 1:16pm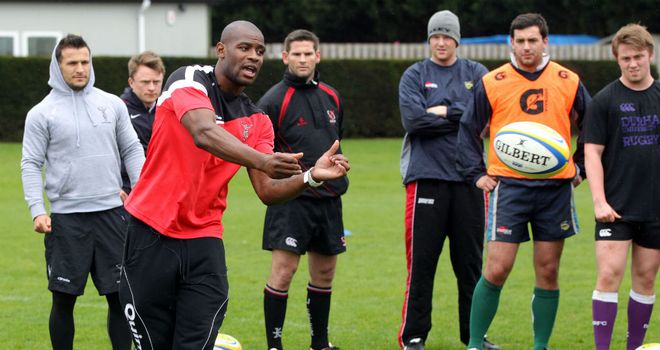 Ugo Monye insists it would be "an injustice" if Harlequins finished the season without silverware.
Having sprinted out of the blocks at the start of the season - with 14 straight wins in all competitions - Harlequins looked on course for a clean sweep.
And although the wheels haven't completely come off their challenge, Friday's Amlin Challenge Cup loss to Toulon has left Quins with just the Aviva Premiership to play for.
Quins currently find themselves in pole position and all-but guaranteed only their second-ever appearance in the play-offs.
With three games left, they are currently 13 points clear of fifth-placed Exeter - and six ahead of Saracens and Leicester.
"We really targeted those early games during the World Cup period and that has given us the momentum - and that is a massive factor in sport," the 28-year-old told Sky Sports.
"Winning 10 Premiership games in a row gave us that platform and we have just built from there.
"I think it would be an injustice if we came away from this season empty-handed. We won the Amlin Challenge Cup last year, which was great and we have been in a superb position to add to that."
Brilliant
Monye, who has made 181 appearances since his debut for the club 10 years ago, claims the squad are "fully focused" on not letting all their good work go to waste.
"It is brilliant to be top of the Premiership with three games to go," he said.
"Our goal at the start of the season was a top-four finish and to make the play-offs so to be six points clear is great but we know that we haven't won anything yet and that there is still plenty of work to do.
"We had a bit of a hiccup at the weekend against Toulon but they are a very clinical side and it now means that we are fully focused on the league as that is all we have left to play for.
"We know that is in our own hands now but we have got three hard games coming up against Wasps, who have had a bit of a revival and were unlucky against Biarritz, Leicester and then Sale.
"We have only lost a handful of games throughout the season so we know we can compete with anyone if we get our game going."
Despite their proud history - and being one of best known names in world rugby - Harlequins have never won the domestic title.
Desperate
They finished second in 2009 but lost out to London Irish in the play-off semi-finals.
The club have twice won the domestic cup (in its guises of John Player Cup in 1988 and Pilkington Cup 1991) and the second tier European title (the European Shield in 2001, Parker Pen Challenge Cup in 2004 and Amlin Cup last season) on three occasions, while they won the National One crown in 2006.
And Monye, who has extended his stay at the Stoop until 2015, is confident that the current crop of players have proved they have got the quality to go all the way - with Leicester, Saracens, Northampton and Exeter fighting it out for the play-off spots.
"I am desperate to win more silverware at the club and I know we've got the squad and capabilities to do that," added the British and Irish Lions international.
"We respect all our opponents. Leicester, Saracens, Northampton and Exeter are all really good teams - the league table doesn't lie - and they each pose different challenges to us.
"We have played them all this season, though, and beaten them so whoever we play will hold no fear for us."
Harlequins head strength and conditioning coach John Dams, along with players Danny Care and Ugo Monye, were at their training ground with Gatorade's Save your Season team Eton Manor to share their knowledge on conditioning, recovery, injury prevention and re-hab. Gatorade is the official performance partner of Premiership Rugby. To see more go to www.saveyourseason.co.uk