Conor O'Shea halis 'massive' victory at London Irish
Harlequins boss Conor O'Shea admitted his side "got away with it" after their last-gasp 31-28 victory at London Irish.
Last Updated: 29/10/12 10:37am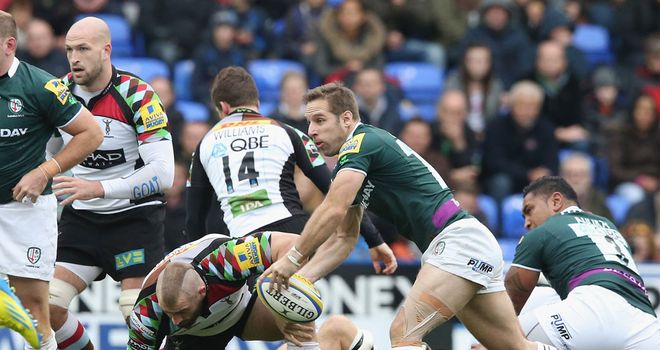 Casson's try looked for the all the world like a knock-on but TMO Graham Hughes ruled that the ball had ricocheted forward off the centre's knee, making the subsequent grounding legal.
O'Shea admitted that on another day it could easily have been the Exiles celebrating a famous win.
"I think if you watch it in real time it doesn't look like a try, it's a great piece of covering work by Guy Armitage," he said.
"But by the letter of the law it's a try so I think it was a good decision and it's why we have the TMO system."
"We know that at the end of the season you look back and you have games like this. It's a massive four points for us to come away with because Irish played well and it's a tough place to come.
"I think we really picked up the intensity in the final five or six minutes after we went behind and that was crucial. The whole team picked up in intensity and we saw more people carrying, more people getting into the game and looking for the ball.
"Everyone forgets certain games at the end of the season - it's all about playing your best all season and fortunately this was one we got away with without playing at our best."
London Irish director of rugby Brian Smith saw the controversial final play rather differently.
"The guy who had the responsibility made his call and while I don't agree with it there might be some who do," he said.
"The key thing for us is to take the spotlight off the incident at the end and focus elsewhere - we're a good team.
"We played well against the champions of England and I think we deserved the win, but at the same time if you ask yourself, 'Could that game have gone either way?', you have to say, 'Yes, it probably could have'.
"They are one hell of a team, they probably have a couple of years' head start on us on where we want to be and fair play to Conor and his boys - they won the game and that's what matters."