Conor O'Shea slams referee after Harlequins hold off London Welsh
Harlequins boss Conor O'Shea launched a blistering attack on the referee after their 31-26 victory at London Welsh.
Last Updated: 08/01/13 11:43am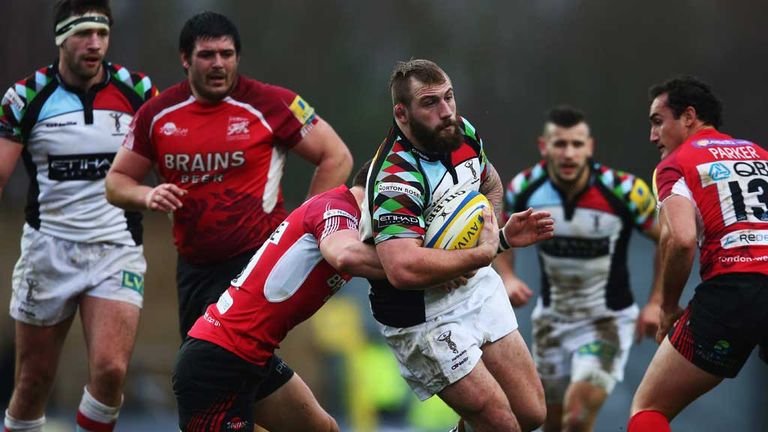 The bonus-point win sent Quins back to the top of the Aviva Premiership but they were far from comfortable, the Exiles battling back from 21-6 down to within five points before the champions sealed the victory.
O'Shea was nevertheless left unhappy with the match official, who he accused of a catalogue of errors.
"I'm unbelievably frustrated, you'd have to go a long way to see worse," he said.
"Everything was wrong - it was incredible. The offside line was irrelevant, trailing runners coming back was irrelevant, backing into the maul, not releasing in the tackle - all irrelevant.
"We were 21-6 up at half-time but bafflingly the penalty count was against us, how that can be?
"We have a feedback process for the referees but it's not actioned upon and it's very difficult at times.
"We played some magnificent running rugby in the first 45 minutes and that's what we should be talking about - our full-back, Ollie Lindsay-Hague, dazzling people with his footwork." said O'Shea.
Welsh head coach Lyn Jones was delighted with his team's spirited fightback and they picked up another precious losing bonus point.
"At half-time we were staring down the barrel," he said. "We started the second half well, we were still in there and we needed to get the first score, which we did.
"We had a chance to win but their class and ability shone through in the end. They are a very good side and it's a pity more sides don't play like them.
"We are showing determination and spirit and are good enough to stay in this league."