Aviva Premiership: Joe Marler replaces Chris Robshaw as Harlequins captain
Last Updated: 04/08/14 4:58pm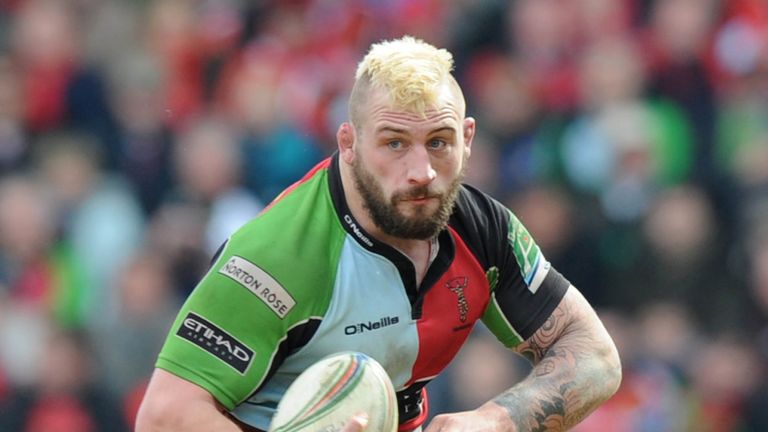 Harlequins have appointed Joe Marler as club captain in a bid to ease the workload on England skipper Chris Robshaw in the looming World Cup year.
Robshaw has led Quins for the past four years, winning the 2012 Aviva Premiership in the process.
But the club's director of rugby Conor O'Shea has decided to limit his responsibilities for this season, with the World Cup in mind.
Robshaw said: "It is going to be a long, tough year. You need to make sure you keep your balance right, both on and off the pitch.
(Robshaw) has a massive year ahead of him and I feel that we should relieve him of some of the pressure.
Conor O'Shea
"First and foremost you need to make sure you are fresh and playing well. You also need to make sure that you have down time as well and look after your body as best as possible.
"The game has changed and it is getting more physical, quicker, faster and guys are getting stronger."
O'Shea says Harlequins will benefit from the decision, as well as England.
Pressure
"I've been speaking to Chris about the dual role of captaining both England and Harlequins for some time," O'Shea said.
"He has a massive year ahead of him and I feel that we should relieve him of some of the pressure, which will allow him to focus on being at his best for both club and country.
"We are extremely grateful to Chris for the four seasons that he captained the club, of which three were spent captaining both Harlequins and England.
"We want him to be at his best for Harlequins, win trophies here and also lift the World Cup next year. To do so we believe he needs to be fresh both mentally and physically, hence why we have made this decision now."
Academy product Marler, a fiery loosehead prop who has made over 100 appearances for the club despite being just 24 years old, is looking forward to the captaincy.
"I want to pay tribute to how well Chris has done over the last four years, leading us through the most successful period we have had as a club," Marler said.
"It will be good to be able to take the pressure off him as he heads into a huge year with England."