Rob Baxter rues lack of a bonus point in Exeter win over Worcester
Rob Baxter was disappointed his Exeter side failed to secure a bonus point in their 33-9 win over Worcester Warriors.
Last Updated: 03/11/12 6:55pm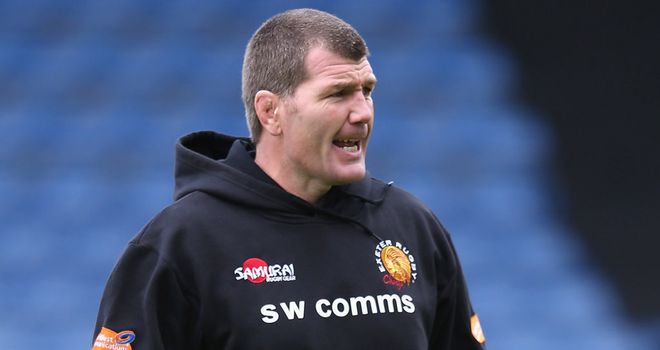 The Chiefs maintained their unbeaten home record in the Aviva Premiership this season as Gonzalo Comacho, Haydn Thomas and Chris Budgen all touched down but they could not grab the crucial fourth try which would have sealed a bonus point.
"It was four very valuable points but I can't help but feel that we left a point out there, not least because large parts of our game held up well and should have given us a foundation to push on a little earlier than we did," said Baxter.
"The enthusiasm of the players to defend was far better than last week [at Bath], our toughness on the game line in the first half was better than last week and our maul defence was fantastic.
"That [the maul] is probably Worcester's biggest weapon and they got no change there at all and our scrum was pretty dominant.
"Those kind of things should have given us the platform to push on but in the second half we lost the momentum for 20 minutes."
Warriors head coach Richard Hill said this was probably his side's worse performance of the season.
He said: "It was difficult to put your finger on exactly what was going wrong but it was across the board with a lot of inaccuracies. We had a very poor start, which puts you on the back foot.
"You can't come back here after being 19-0 down at one stage against Exeter.
"That is what we have to address because that is the fourth game in the league where we have conceded a try in the first five minutes and it knocks the stuffing out of you."