Premiership: Worcester stalwart Craig Gillies has decided to retire
Worcester lock Craig Gillies has announced his retirement after a long and distinguished career.
Last Updated: 05/07/13 4:18pm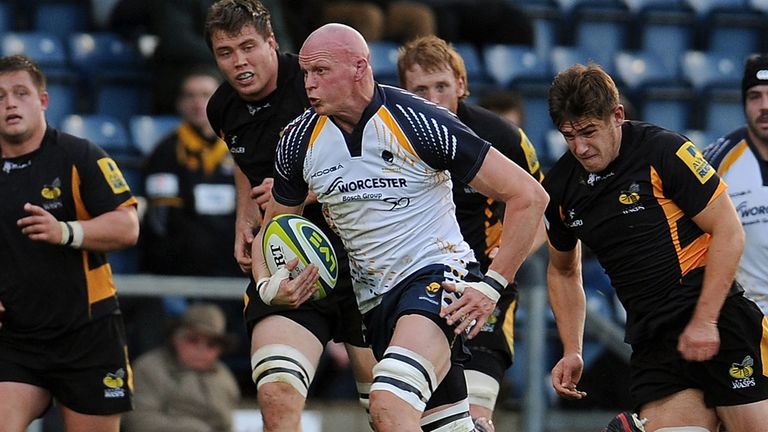 The 37-year-old second rower won England A honours back in 2000 and joined Worcester in 2002, after spells with Bath, Richmond and Llanelli.
During his 11 years at Sixways, Gillies made a club record 288 appearances, and was consistently one of the most accomplished line-out operators in the top flight.
Difficult decision
The Warriors were promoted into the Premiership at the end of the 2003/04 season and Gillies was a key member of the unbeaten National Division One-winning side.
Announcing his plans to retire, he said: "It's been a difficult decision.
"Physically, I feel I could continue for a few more years. However, an opportunity has been presented to me to look to the future and it truly feels like the time is right for me to make this move.
"I have a health and nutrition business that is rapidly expanding and it is already proving to be hugely successful.
"It is also a busy time for me, as my testimonial committee has a full calendar of events planned over the coming year, for which I am extremely grateful.
"I have always enjoyed being part of the set-up here and the challenge of putting this club up with the elite. I look forward to continuing my strong relationship with the club.
"I would like to thank every one of my team-mates, the coaching staff and support staff that I have worked with.
"And, of course, the Worcester fans, who have been brilliant towards me on every step of my journey.
"A special thank you to (executive chairman) Cecil Duckworth for everything he's done for me personally, for this club, and the city. He is an incredible individual who has given so much."
A role model for many
Dean Ryan, Worcester's new director of rugby, said: "The values that Craig has illustrated over his time at Warriors are the framework for others to follow.
"His attitude and application has been outstanding and he has been a role model for so many."
Duckworth added: "For many years Craig was simply the first name on the team sheet and I always remember our first promotion season to the Aviva Premiership, when he was immense.
"I cannot speak more highly of him as a player or as a person. Craig will always stand alongside the likes of Tony Windo and Pat Sanderson as true legends at Warriors."