Aviva Premiership: Dean Ryan upset with Worcester defeat to Newcastle
Worcester's Dean Ryan made no excuses after watching his side crash to their 10th successive Aviva Premiership defeat.
Last Updated: 05/10/13 7:31pm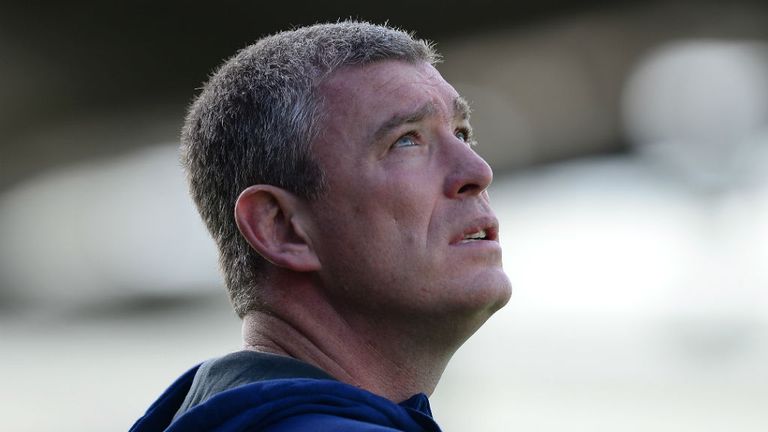 The Warriors go into a two-week break for European action at least six points adrift at the Premiership basement and without a top flight win for more than seven months.
The Falcons' 16-11 success at Sixways left Worcester to reflect on collecting just two losing bonus points from five starts.
But rugby director Ryan insists he will not start using an 'excuse culture' for their poor form.
"It's pretty obvious that losing games, and in the manner we lost today and against London Irish, saps confidence, but we can only control ourselves," he said.
"I am not going to get into the excuse culture.
"We can't buy a win at the moment. The challenge here is to be competitive regularly. There have been times when we haven't been, and at times we were today. We've got to get better at managing things.
"We haven't got a group that is confident week in, week out of getting all those pieces of the jigsaw right.
"I know what everyone is writing about us - and after five games we probably deserve that - but we have just got to get back to work and look at being a little bit better.
"With that sort of field position and those kind of opportunities we had today, we should be generating more scores and better management to get the win.
"We are not a side that is full of confidence. We have lost five games this season. We are not going to pretend that we are brimful of confidence after five losses, but we have got to work our way through it.
"We are not a side at the moment that can run from our own 22 and put a side under pressure - it puts us under pressure. So we've got to find a balance of what we kick versus what we play with."
Richards backs Warriors
However, Falcons' director Dean Richards does not believe that Worcester will end the Premiership campaign in their current position.
"You only have to look at the quality of Worcester's squad to see they are not going to be at the bottom at the end of the season," Richards said.
"They just need a bit of a break, which will happen at some stage, and they will start climbing the ladder."
Reflecting on his own team's performance, he added: "I am pleased for a number of reasons. If you look at our squad today, we had 12 players who came through the club's academy. I am delighted with that.
"The youngsters keep on setting the trend within the club. It is the youngsters that are showing the way."