Worcester full-back Chris Pennell admits loan is an option
Worcester full-back Chris Pennell has refused to rule out seeking a loan deal at an Aviva Premiership club next season.
Last Updated: 04/05/14 10:58pm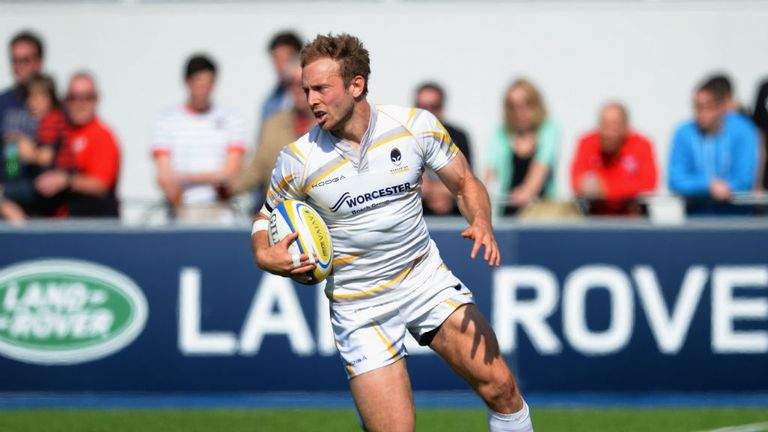 The Warriors' relegation to the Championship next term was all-but confirmed following Saturday's 44-20 defeat at Saracens.
Pennell, 27, signed a three-year contract extension at Sixways in December and admits he wants to help his hometown club thrive again, but concedes it will be tough to force his way into the England reckoning from the Championship.
When asked if he would consider going on loan next season, the uncapped Pennell said: "It's not a common thing for someone playing in the second tier to be in the England set-up; maybe there's a conversation to be had another time.
"Next year is a massive year from an international point of view.
"I can't predict the future but at the minute I'm going to be playing in the Championship for Worcester next season.
"I've got a lot of love for this club. They have been amazing to me through difficult times and I owe them a lot.
"A huge amount of that drives my loyalty and it will mean a lot to me if I finish my career knowing that I have shaped a successful future for Worcester."
Worcester rugby director Dean Ryan, who replaced Richard Hill, has already secured 15 recruits for next season and Pennell has backed him to guide the club back to the Premiership.
"We've made huge strides compared to the side we were at the start of the season, but that change needed to happen earlier," he said.
"It wasn't to be. I've been really impressed with the guys that are coming in.
"It's obvious that Dean is trying to bring some youth in, some hungry and ambitious players. People like that can really help move the place forward.
"I know the type of people Dean wants and I'm confident the guys coming in will really add something.
"We know that it's not an easy league and we're not going to take anything for granted. We're going to have to scrap for everything.
"The long-term future has always been really positive but we'll have to deal with the short-term heartbreak.
"We believe in his vision. Being successful isn't easy and we've learned that.
"It's uncomfortable at times and you need to challenge yourself.
"I truly believe that Dean and the rest of the coaches are the right people to make this club successful.
"From my point of view, I completely believe in what these guys are putting together.
"I don't think Worcester resembled a successful environment previously, hence why we've always been scrapping towards the lower end of the table.
"Change needs to happen. I think the Worcester team in two or three years is going to be a completely different animal.
"We can't afford to just keep ticking the same boxes."