Gloucester full-back Olly Morgan retires at 27 due to knee injury
England and Gloucester full-back Olly Morgan has been forced to retire at the age of just 27 due to injury.
Last Updated: 09/10/13 11:05am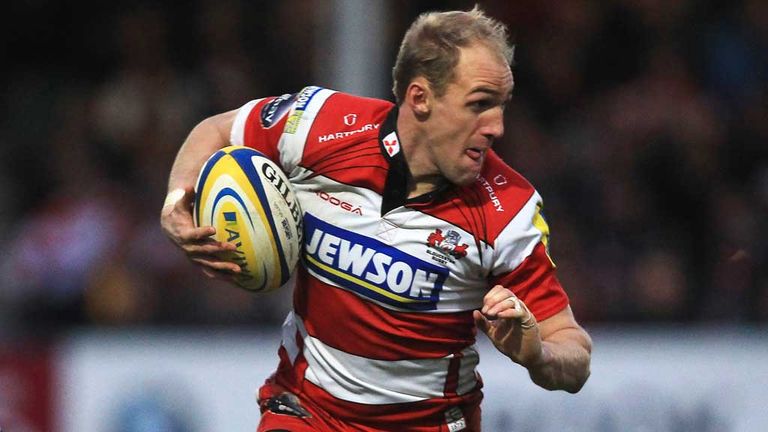 Morgan has been sidelined since tearing his lateral collateral and anterior cruciate ligaments in a clash with Worcester in January last year.
He has undergone a number of operations due to infection, and he also consulted renowned knee specialist Bill Knowles in the United States, but the damage is too severe for him to return to professional rugby.
Morgan confirmed he has been forced to quit on medical advice, leaving him to reflect on a short, but successful career.
"It's been such a difficult decision. Even though I've had a long time to consider this moment, it doesn't make it any easier," he said.
"The frustrating element is that we've actually made so much progress with my knee. I can't speak highly enough of the work that Bob Stewart and the medical team, and also Jamie Bain, have done with my rehabilitation.
"However, I have had to reluctantly accept that, the knee would not be able to cope with the stresses of matches week in and week out, as well as regular training sessions. It would just be too much.
Great moments
"There have been so many great moments. I've loved every minute of my time as a Gloucester player, and I represented my country. Not many people can say that.
"It's disappointing that I'm not able to bow out in the way that I'd like, but I've had so many highs and made so many great friends. You can't have any regrets when you look at it like that.
"I'd like to thank my team mates, the coaching staff, everyone who works at Kingsholm and the supporters of course. It's been a special experience.
"This particular chapter has come to an end. And it's disappointing that injury got the better of me. But that's a fact of life in modern rugby. It's all about the future now and I'm looking forward to exploring the various options available to me."
Gloucester director of rugby Nigel Davies said: "It's always desperately sad when a player has to retire due to injury. In my time at Gloucester, we've lost the services of Alex Brown and now Olly. Both were class players.
"I rated Olly as a player even before I arrived at the club. Since then, my admiration for him as a man has grown immeasurably as I've watched him dedicate himself to overcoming the injury.
"He's given it absolutely everything, and I know it's been a tough decision for him. Olly has been a great servant to the club and I'm sure has a bright future ahead of him."