Haskell knows limits
James Haskell is not one to shirk a tackle on the pitch but he knows better than to seek revenge off it.
Last Updated: 14/09/12 5:13pm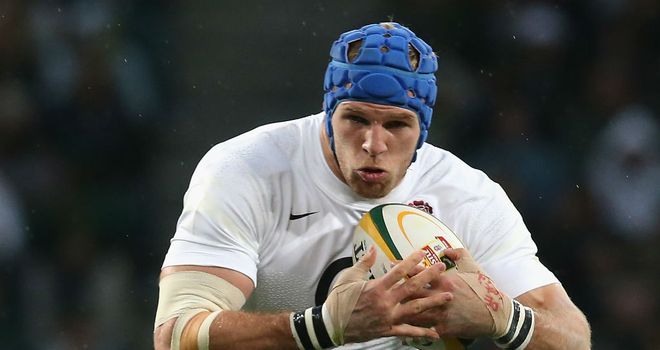 James Haskell, Wasps' muscular back row, is not one to shirk a tackle on the pitch yet he knows better than to seek revenge off it.
The England flanker's Range Rover was broken into on the night of Stade Francais' European Challenge Cup final defeat by Harlequins in May last year.
A disappointed Haskell, then playing for Stade, had left his loser's medal in his kit bag, but by a stroke of good fortune was later reunited with it.
Despite standing an imposing 6ft 4in tall and weighing over 17st, the 27-year-old knows confrontation in a repeat of the incident would be ill-advised. From training in his rugby career, he knows it is dangerous to underestimate opponents of any stature.
Medal
He said: "I had one hell of a day. My shower exploded and then my car got smashed into at around 4am.
"They pulled out my bag but threw away the medal and some bloke who was walking his dog found it.
"The guy was a professional wakeboarder and he appreciated medals don't grow on trees.
"He contacted the local newspaper and they called me up and gave it back to me.
"I'd like to have caught them, but the last time they did it in the same area they left a kitchen knife inside.
"If you come out as a have-a-go hero and the bloke's got a kitchen knife, it wouldn't have been too clever.
"I like to back myself, but one of the things I've learnt from training is there are a lot of small, nasty guys out there with a lot of skill.
"I was wrestling a 50kg guy the other day and he picked me up and threw me. Technique wins the day. Plus I have no knife skills."
International flavour
Haskell will play his third match since returning to Wasps in Saturday's Aviva Premiership clash with London Irish following a three-year stint overseas.
Two seasons at Stade followed by spells at Japanese club Ricoh Black Rams and Super 15 outfit the Highlanders have provided his CV with a strong international flavour.
He acquitted himself well while abroad and in his opinion has returned home a more rounded player.
Haskell added: "I now have experience of being in different environments and can adjust to things better.
"I'm the same loud, brash guy, but I feel I now have more of a leadership element to my game.
"I'm willing to take more responsibility and I believe I have a better rugby brain than when I went away."
Amazing footwork
A season with the Highlanders has emphasised to Haskell the difference in playing styles and culture between the northern and southern hemispheres.
He continued: "In New Zealand they see our game as a 10-man mauling, driving game, but no England team I've played in has been coached that way.
"A lot of it is down to surfaces, weather and the number of games you play. Their seasons are short, intense and played in good weather which is very conducive to playing good rugby.
"When I turned up in the Super 15 I wondered if I'd fit in, do they have forwards chipping the ball and showing amazing footwork?
"But that's just not the case; rugby is rugby wherever you go, although it's faster over there.
"They play more touch over there from an early age, whereas Premiership players coming off the conveyor belt are all about weights and power."
Passionate
Haskell was excluded from the most recent England elite player squad named in July, however was still with the Highlanders at the time.
He said: "I came back to the UK to be involved with England and that's it.
"I couldn't be any more passionate about it, but it starts by playing well for Wasps."
Wasps and London Irish, who meet at Adams Park, have both lost their opening two fixtures this season.
In Saturday's other games, Sale travel to Harlequins, Worcester host Gloucester and Saracens face Leicester at their occasional home of Wembley.