Christian Wade excited about new season and England prospects
Christian Wade is still buzzing after his Lions summer and is determined to continue his rise.
Last Updated: 05/09/13 5:48pm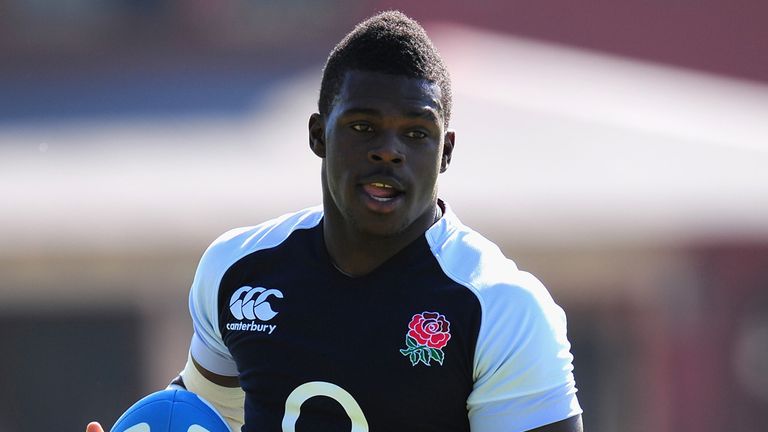 However that was not all. An SOS from Lions coach Warren Gatland saw Wade heading to Australia and although he only played in one midweek game - the loss against the Brumbies - the experience has had a huge effect on him.
"It was an amazing experience and I learnt so much," Wade told skysports.com
"Being part of that squad as they built up for the deciding Test and then watching them winning it to seal the series was something very special and really gave me an appetite to achieve more. It has certainly shown me that I need to keep on improving and it was a privilege to be able to learn from some of the players - the camaraderie and togetherness was something else. I definitely want to experience that again."
Wade certainly impressed for England in that first Test against Argentina where they ran out 32-3 winners and was rewarded with promotion to England's Elite Player Squad (EPS).
"I am part of the EPS squad now and my aim is to cement a starting place in the England team and get some game time in the autumn," added the the 22-year-old flyer. "I really want to show what I can do on home soil. I have to perform for Wasps and then take every opportunity that comes.
"I have to maintain what I have done so far and push on. I am looking to make some improvements this year too. Defence is always something that I am going to have to work hard on - you need to be able to tackle the opposition no matter what size they are. It's all about understanding the game and putting what you learn into action. Then there is any all round game - kicking the ball, working on my handling skills and clearing out skills too. There are so many aspects of the game now and it is important that you get to grips with them all and keep on top of it all."
Premiership promise
Wade was a late-comer to the game of rugby but has used his skills from basketball, football and of course athletics to make him a better rugby player.
"I am always looking at different sports and see if there is something I can use in rugby - I also try and learn as much as I can from other players at the club," he explained.
"I worked hard with the likes Nick Robinson, Stephen Jones and Dave Walder. Everyone has their own experiences and it is good to get their take on certain situations. It does not do any harm to learn from these guys and gain a better understanding of the game.
"I look at what players like Jason Robinson did too and I look at players with similar builds to me like Shane Williams and David Lemi - who I played with at Wasps."
Before Wade can fulfill his England ambitions he knows he needs to perform at Wasps and is confident that the team can compete for top honours this season.
"The vibe at Wasps has been good and there is a lot of competition for places," added Wade.
"We didn't quite deliver last season and had a chance to make the top four but we let it slip away. We have a lot of potential and we just need to maximise that potential and start producing the type of performances we know we can deliver."
Christian Wade was speaking on behalf of Maximuscle, the sports nutrition product of choice for elite and amateur rugby players. Maximuscle have launched a Reward Scheme to help amateur rugby clubs raise their game, for more information visit www.maximuscle.com/grassroots