Cockerill critical of Twelvetrees
Leicester director of rugby Richard Cockerill has said Billy Twelvetrees was not "up front" with him about his move to Gloucester.
Last Updated: 28/01/12 6:58pm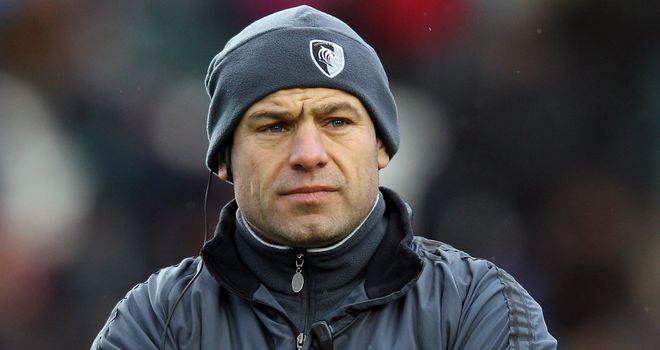 Leicester director of rugby Richard Cockerill has criticised the manner in which Billy Twelvetrees has handled his forthcoming departure from the club, saying the young centre has not been "up front" with him.
Speaking after watching his side beat Harlequins 19-9 in their LV= Cup match on Saturday, Cockerill seemed less than impressed by the 23-year-old, who is joining Gloucester next season.
The move was confirmed by Gloucester on Saturday morning, with Twelvetrees himself in action for England Saxons against the Irish Wolfhounds later in the day.
Cockerill, while pleased with the performance of some of his youngsters at The Stoop, admits Twelvetrees' exit had left a bitter taste in his mouth.
He said: "Billy's chosen to move on. That's his choice; it's disappointing but that's life.
"I'd rather deal with people face-to-face and be up front. George Skivington is leaving, he came and spoke to me and explained his reasons why. I shook his hand and said 'thanks very much' and wished him all the best.
"That's how I prefer to do business. That's okay. Billy's a young man and he'll learn to do things differently as he matures - as I have."
On the pitch, Leicester got off to the perfect start thanks to Andy Forsyth's converted try in the fifth minute, before Quins replied with a Rory Clegg penalty.
Fly-half Clegg added two more penalties in the second half but Quins could not score a try, while Leicester added two more through Alex Lewington and Ben Pienaar.
Odd game
"It was a bit of an odd game really, both sides trying to play and not a huge amount of structure to any of it," said Cockerill.
"I thought [Andy] Forsyth and Dante Mama, who normally plays at Loughborough Students, did really well and [Alex] Lewington's got some pace."
Harlequins have now lost four out of their last six games and head coach John Kingston was far from pleased with his side's latest performance.
"That was not to the levels that we expect and aspire to," he said. "Yes there's a lot of players out there who are not playing regularly but we're a squad and they will be aspiring to put their hand up. Several of them will be very disappointed because they don't go out there not to perform well.
"Nobody in their right minds is going to expect a team of any sort to carry on with the start we had. We have been winning one losing one in the last few weeks against really very competitive opposition.
"We've got an awful lot ahead of us though and an awful lot of positive things to look forward to."