Cohen backing the Tigers
Ben Cohen is backing Leicester to beat Harlequins in Saturday's Aviva Premiership final - but only just.
Last Updated: 22/05/12 7:05pm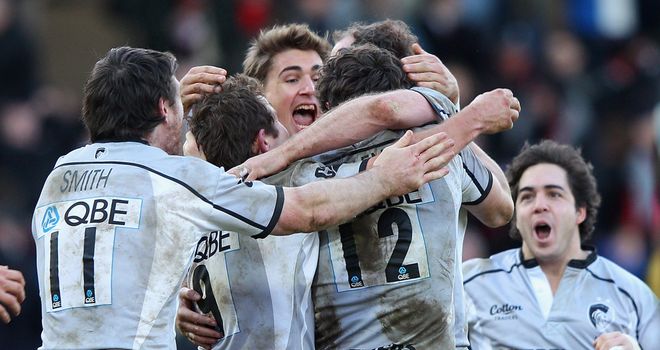 Ben Cohen is backing Leicester to beat Harlequins in Saturday's Aviva Premiership final - but only just.
Leicester slumped to 11th in the Premiership after their first six games of the season, of which they lost five, but 14 subsequent victories and a draw saw them climb to just one point behind regular season table-toppers Quins.
Then in a repeat of the last two finals, the Tigers beat Saracens 24-15 in their semi-final at Welford Road to book a remarkable eighth successive appearance in the showpiece match of the Premiership season.
Quins, meanwhile, are preparing for their first final after a nail-biting 25-23 victory over Northampton Saints in their last-four match.
And former England winger Cohen believes Leicester's superior knowhow will see them claim the spoils at Twickenham in a tight encounter.
Consistent
Cohen said: "Year in, year out Leicester always produce the goods at the end of the season. They have a bit of a lull around the international parts but they finish strongly and you have to take your hat off to them.
"Harlequins have been consistent all season and finished top of the table. But Leicester know how to win trophies and in that pressure situation you'd have to give them the tag of favourites - I think they should come away with the trophy.
"It'll be a very physical affair and I think it'll be very close. Look at Harlequins against Northampton in the semi-final; with five minutes left you wouldn't have thought they'd come back to win but they did.
"But I'd say Leicester will pip it."
Cohen is an ambassador for the Bingham Cup, the world championship of gay and inclusive rugby teams which is sponsored by Gaydar.net.
The former Sale Sharks winger played a key role in attracting the event to Manchester, where it will take place over the weekend of June 1-3.
Fantastic
Cohen said: "It's a fantastic tournament, people come from around the world to be involved in it. I'm passionate that anyone, regardless of their background, should be able to play rugby.
"Events such as this tournament show how rugby has become more inclusive and it also helps break down barriers and bring more people into the sport."
Since retiring from rugby, Cohen has concentrated on his 'StandUp Foundation', which aims to combat homophobia and bullying.
He added: "I never got bullied and I never saw bullying in rugby but I hear a lot about it and, having a large gay following, the stories that you hear and why they don't play sport are very sad.
"I know it does happen and we hear of horrid stories at a lower level. I'm not saying it doesn't happen at the top level, I can imagine there are some isolated incidents, but at grassroots level people need educating about homophobia, which is where racism was 20 years ago so there's a lot of education needed."