Allen out to prove a point
Leicester centre Anthony Allen wants to impress England boss Stuart Lancaster against Harlequins in Saturday's Aviva Premiership final.
Last Updated: 25/05/12 5:00pm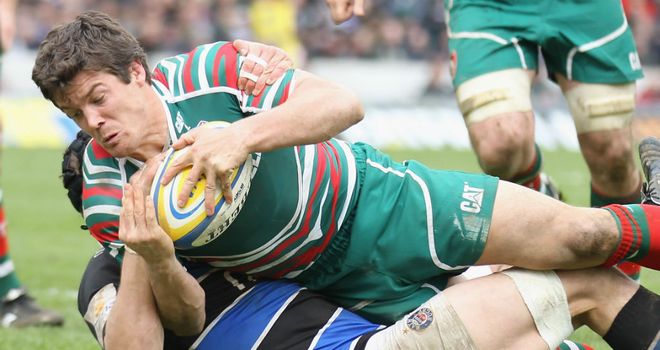 Leicester centre Anthony Allen wants to impress England boss Stuart Lancaster against Harlequins in Saturday's Aviva Premiership final.
The 25-year-old has been recalled by Lancaster for next month's summer tour of South Africa after enjoying some of the best form of his career at Welford Road.
Lancaster, who knows Allen well from his time in charge of the England Saxons, rewarded the former Gloucester back with a second chance at senior-level international rugby following a six-year hiatus since he won his two caps.
Allen is focused on securing a place for the three Test matches against the Springboks and knows that an impressive performance in the Premiership showpiece can only boost his chances.
"I'm looking forward to getting back and involved with England," Allen said. "It's been a while to getting properly involved and going on a tour.
"I've been with the Saxons and Stuey (Lancaster) and I know what he likes and what he's about and hopefully he will stick with what he's set out to do.
"I've worked hard and I've had some injuries this year but I've come back from them and I'm stronger and a better player."
Allen made his international debut against New Zealand under Andy Robinson in November 2006 but was then dropped after only his second game following a defeat by Argentina.
The Southampton-born centre believes his time at the Tigers has transformed his game and made him a more complete player.
He said: "I think I'm much more well equipped. I've grown up a lot, especially coming to Leicester and learning a lot from (head coach) Matt O'Connor and what is needed at that high level.
"I'm certainly more equipped for it now than I was five years ago. It's been a long while and I've been in and out of the squads since then but to get an actual proper shot hopefully this tour will have a positive outcome.
"You get a chance to go on tour and anything can happen. You've got to train hard, go hard, play well in the final and stay positive and really give it your best shot.
"Going on tour you've always got a shot. Inevitably there will be injuries and people picking up knocks while you're there so there's a good opportunity so I've just got to train hard and go well."
But first, Allen has his eyes firmly set on helping the Tigers to their fourth Premiership title in five seasons.
Saturday's clash with Quins at Twickenham will be Leicester's eighth successive final appearance and their 12th out of the last 14.
The Tigers reached the final after winning their last 11 games in all competitions - a remarkable feat considering they were languishing in 11th place early in the season with a large part of their squad away on World Cup duty.
"It's another final that we're in. It's a great achievement to the squad and for the club as a whole," Allen said. "It's been tough with the World Cup at the beginning of the season because we were in 11th place in October and we've battled hard to get back to where we are.
"It's another game, it's at Twickenham and it's just over the road from Harlequins' home ground so they'll probably try to keep it as a normal home game.
"It will be tough and a massive game but if we get our detail right and train hard we'll give ourselves a good shot."