Freddie burns bright
Will Greenwood and Dewi Morris have high praise for Freddie Burns but Dean Ryan is worried about England's lineout.
Last Updated: 31/10/12 4:53pm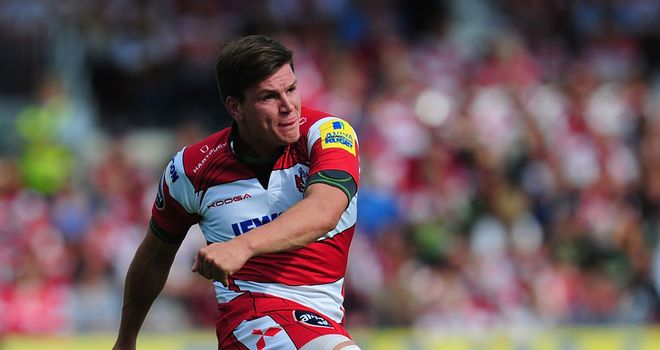 Will Greenwood says Gloucester's 27-21 win over arch-rivals Leicester at Kingsholm could be a turning point for Nigel Davies' men.
The hosts held off a ferocious Tigers charge in a thrilling game to claim a victory that takes them up to third place in the Premiership table.
"This was their first real test," Greenwood told Sky Sports.
"They needed that win, that win against one of the big four and it has come against one of their arch rivals Leicester. I think it is a huge confidence booster in terms of what they can now go and do.
"We talked about the fixtures they had before this game in terms of them not playing teams the sides above them in getting themselves into situations where they have won six out of eight.
"The introduction of Jimmy Cowan has been superb - he has not had the best game but the nous he has it just fantastic, he is that figure that they can group around, he can take the pressure of those around him."
"It could be a season defining win for them," agreed Dewi Morris.
"The commitment, the skill level and the orchestration from Freddie Burns at times was fantastic.
"They just wanted it for one another and that is the great things about rugby and the great thing about this Gloucester side. There are question marks but they are getting there - onward and upward for them."
Burns riding high
With plenty of England players on show it was two men who are not in the England set-up who stole the show. And Greenwood and Morris agree that while James Simpson-Daniel's time may have gone, Burns should be in the England set-up.
"I see a lot of Austin Healey when I watch someone like Freddie Burns," said Greenwood, who won 55 caps for England.
"He does have a few problems though - we see his right foot kick to the left touch when he paused and hesitated and get charged down - we saw Danny Cipriani do that against South Africa a couple of years ago.
"But he has got some vision; he has the ability to look up, see what is on and just go. Very few people have the nerve to do what he does; to take people on and to back himself. He has the ability to compartmentalise - he kicks his goals excellently, but when he makes his errors he gets back up on the horse."
With England taking on Fiji, Australia, South Africa and New Zealand on in the autumn, Morris is surprised that burns is not getting a taste of international rugby, especially as Stuart Lancaster is so adamant about building for the world Cup in 2015.
"We are a few years away from the 2015. Surely this guy has to be exposed to international rugby?," asked the former England scrum-half.
"I know he is on the radar, but put him in against Fiji and see how he goes. He has got something that some of our other 10 haven't. He has got pace, vision, confidence. Yes he does make mistakes but he is such a threat.
"As for James-Simpson Daniel, well it is just unfortunate that he has had all these injuries because he has had this type of form throughout his career, he has probably lost his chance now which is a huge shame."
Lineout woes
While Greenwood and Morris were praising the backs, former England backrower Dean Ryan had some major worries over what was happening with Leicester's lineout - and how that could affect England.
Tigers hooker Tom Youngs will be delighted with the news that he was included in the autumn squad, one of only two hookers. And with Northampton's Dylan Harley coming off with a knee injury he could find himself in the frontline, which could be a major concern.
"He has a problem with his lineout, it is not just about throwing, it is about timing, about finding the right trigger," explained Ryan.
"The trigger is someone in there who will move and you get your timing from there. Youngs is just getting that balance wrong.
"His error rate is undermining Leicester's platform - they have got no chance of building anything from the lineout. Traditionally they have had a solid lineout too - England need a solid lineout too and it could be Youngs who is in the firing line."