Leicester head coach Richard Cockerill on the 19-14 victory at Worcester
Leicester head coach Richard Cockerill was delighted by his side's dramatic 19-14 victory at Worcester.
Last Updated: 05/01/13 8:45am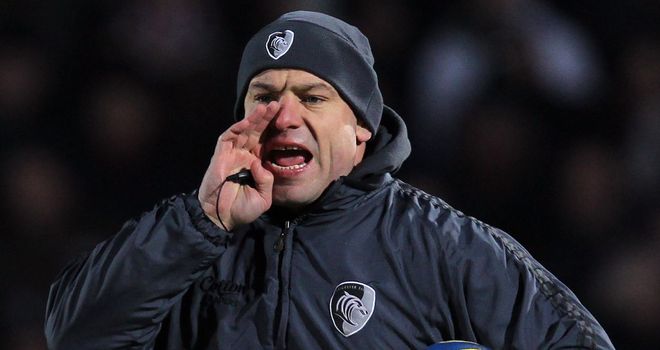 The Tigers looked set for disappointment as they trailed going into the final five minutes, but their second penalty try from a 5m scrum saw them overhaul their hosts at the death.
Cockerill said afterwards: "I think firstly you have to congratulate how well Worcester played in that first half - they just outplayed us. I'd like to make the excuse that we were inaccurate but I don't think I can.
"They were exceptionally good in that first half but our try just before the break gave us that bit of incentive and put the doubt in their minds for the second half.
"I think we started a bit slowly. We knew Worcester would come at us hard physically and obviously Tom Croft hasn't played for months and neither has Steve Mafi for a little while.
"The message we gave at half time was that we'd just scored a try and were back in the game. The bench we had was always going to be good for us with the pitch that soft and the set-pieces."
On the penalty try, the former England hooker added: "You could re-set it and go again, but our blokes were square and going straight - their blokes were at 45 degrees and going backwards. That's what you pay your money for. You play in France, you go forward and get rewarded.
"It's a pushing contest. It's moved on from 20 years ago when I played when it was a hooking contest. It's a power pushing contest and not anything but that and it's great to see."
Warriors counterpart Richard Hill said: "We can hold our heads up high. There was huge passion and effort. It's cruel when you lose like that at the end and there's been a few like that this season. We're just disappointed we lost the ball while on the attack in their 22 with two minutes to go."
Hill recently recruited former referee Steve Lander to help with his side's poor discipline but they were left to rue another yellow card when Chris Pennell missed two penalties with regular kicker Andy Goode in the sin bin.
Hill added: "It was a shame for Chris because he hit them quite well but just missed them. I've no doubt that Goodey would have slotted both those over so it's just one of those things."