Leicester flanker Tom Croft escapes serious injury in win over Wasps
Leicester boss Richard Cockerill has revealed Tom Croft was not seriously hurt in the 34-8 LV= Cup victory over Wasps.
Last Updated: 26/01/13 6:41pm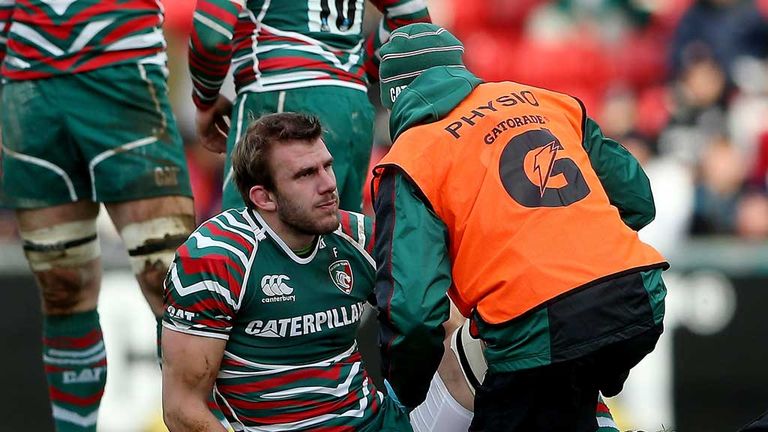 The 27-year-old, who was making only his second start since returning from eight months on the sidelines after a shoulder operation, suffered a back injury and lasted only 11 minutes.
"Crofty just got a knee in his back and it was a bit bruised and a bit tight in the soft bit between his hip and spine," Cockerill said.
"It was just bad luck, one of those things. He needed to play but that's life. It's nothing serious, just a bang."
Croft's team-mate Tom Price, 19, was taken to hospital after being carried off on a stretcher with a neck injury on his debut.
Cockerill said: "He is at the hospital. He is not very good. It was his neck. He was unconscious and struggling. He has got movement in his hands and feet and, hopefully, he will be okay.
"He is over at the hospital being dealt with, so it's not ideal for a young guy who was meant to be playing for England Under-20s next week."
On the match Cockerill added: "It was a good result for us and some guys got a run-out. We go to Scarlets next week with half a chance of qualifying for the semi-finals."
Wasps forwards coach Trevor Woodman said: "We did not control field position, which is something you have to do against a side like Leicester.
"It was a chance for a lot of players to play a game. A lot came in from outside and wanted to show the coaches what they were made of.
"In terms of the effort, I can't fault them. The forwards worked well together and they played for each other, which shows where we are in terms of the squad."