Conor O'Shea says Danny Care's display against Leicester was world class
Harlequins boss Conor O'Shea was full of praise for scrum-half Danny Care after Harlequins beat Leicester 25-21.
Last Updated: 18/02/13 5:24am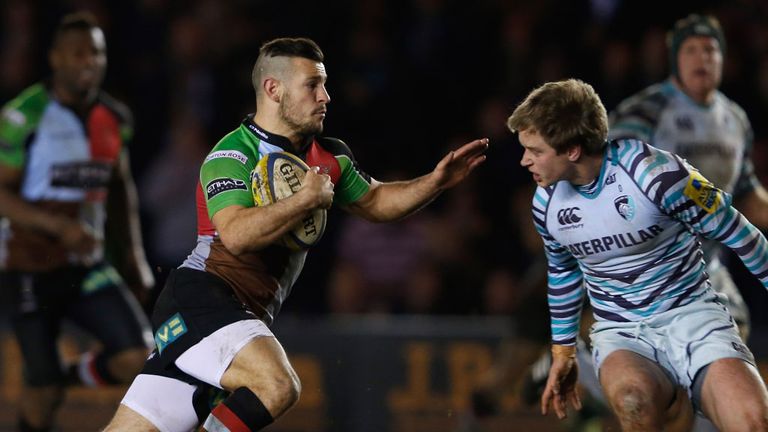 Quins trailed 18-12 at half-time but Care scored a superb solo try after the break, the highlight of a display which had O'Shea calling for England to give his man more game time.
Care has not seen much action in the Six Nations so far and O'Shea said: "The right reaction is to come back and perform for your club.
"Danny Care was world class out there tonight. You're fortunate to be able to watch those types of moments.
"From Stuart Lancaster's point of view, he must be thinking, 'I've got Ben Youngs (who didn't play for Leicester) and Danny Care - how lucky am I?'
"From my point of view, we love having him back. He got stuck in and got physical. Looking at the team, we were physical, we were magnificent.
"I'm always going to back my own player and Danny's outstanding. From Stuart Lancaster's point of view, there are two Lions-standard scrum-halves competing.
Lucky
"I think England are lucky to be in a position like that. You look underneath Danny Care and Ben Youngs, with Joe Simpson coming through - we're blessed.
"They are only 24 or 25 and that is the heartbeat of the side for a long time. Danny will hopefully get a chance soon with England, I'm sure."
Leicester boss Richard Cockerill was frustrated with referee Wayne Barnes and said: "I thought it was a half-decent game of rugby and it was tight but today they take the win and we take a point.
"The discipline was disappointing in the game for us. Some of that was ourselves and some was down to the officiating, which at times was disappointing.
"I thought we were getting penalised for certain things and then I thought the opposition did the same thing but they weren't.
"Yet again the officials take centre stage when we needed the referee to be a bit better.
"We'll now go through the appropriate channels where we feedback and we will decide whether it's right or wrong, but it's too late after the game.
"Yet again it's the interpretation of the breakdown and us getting penalised and Harlequins not. I don't mind getting penalised, but only if both teams are getting penalised for the same things."