Referee Wayne Barnes is looking forward to the Aviva Premiership final
Aviva Premiership final referee Wayne Barnes insists his Twickenham run out will be a success if no one remembers him.
Last Updated: 21/05/13 12:56pm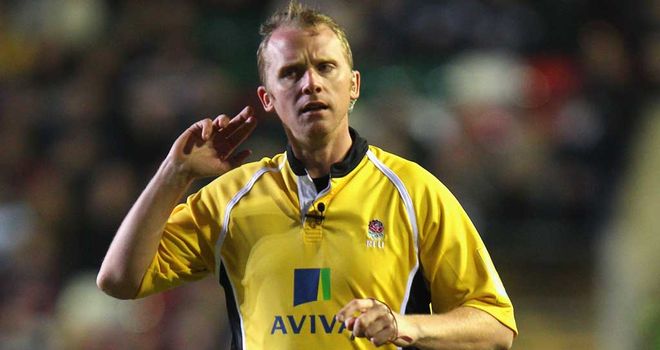 Barnes will be in charge for the showpiece as Leicester Tigers, who are contesting their ninth-straight final, take on debutants Northampton Saints.
It will be Barnes' third consecutive final and fifth overall since he took charge of his first final in 2008. He will be helped by assistant referees Greg Garner and JP Doyle, with Graham Hughes selected as the Television Match Official.
Looking forward to Saturday's showpiece, Barnes said: "The aim for us first and foremost as officials is not to be noticed. If we can come away with no one remembering our names then we have probably done a decent job.
"This is my third year in a row and fifth time refereeing the final and it is always nice to be honoured in that way and selected by your peers, and I am sure that Greg and JP will do great jobs in their first Aviva Premiership Rugby Final because they are fantastic referees in their own right, and Graham will do the same.
Mistake
"I have refereed East Midlands derbies between Leicester and Northampton many times and they are always extremely passionate and well contested, especially in the tight five and the scrums and lineouts will be massively competitive.
"But we also saw in the semi-finals that both sides have fantastic backs as well so it should make for an entertaining game and I will be doing my best to make sure no one remembers I was there come the final whistle."
Barnes could be in communication with TMO Hughes more than he has been in past finals following this season's new officiating implementation. But he is more than happy to 'go upstairs' if it means the right decision is made.
"I am a massive fan of the new TMO protocol," Barnes said. "It allows us to get more of the big decisions right.
"If we have to make big decisions at least we are not doing it with a quick glance. Like everyone else I don't want a game to be decided on an error or a mistake.
"We now have the ability to make sure we have got those decisions right and to make the right calls.
"The players should decide the outcome of the game and this allows us to let them do it and I think it has been a hugely successful implementation this season."