Toby Flood: Leicester out to erase 'bitter taste' of final defeats
Toby Flood says Leicester are desperate to erase the memory of back-to-back Aviva Premiership finals against Northampton
Last Updated: 25/05/13 2:38pm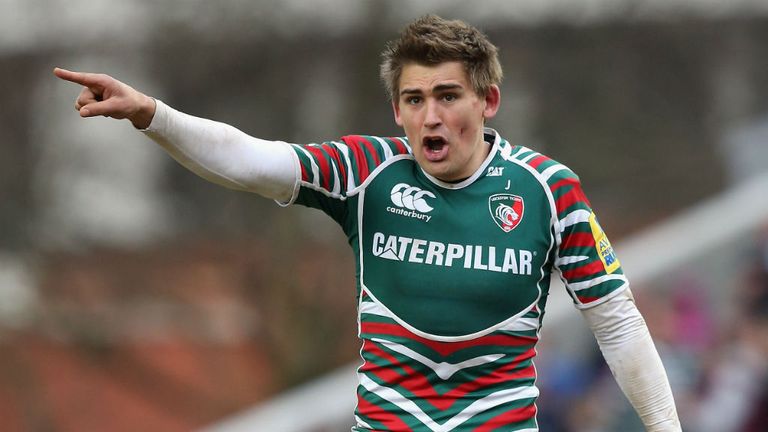 The two East Midlands clubs are old rivals, but whilst this is Leicester's ninth straight final, Northampton are contesting the Twickenham showpiece for the first time.
Richard Cockerill's side are clear favourites but defeats to Saracens in 2011 and Harlequins last year left a "bitter taste," according to Flood, and they are taking nothing for granted having won just three of their eight finals.
"Obviously the last couple of trips to Twickenham have been disappointing," fly-half Flood said. "We haven't done ourselves justice but credit to the teams we played, who played well on the day and deserved it.
"It certainly leaves a bitter taste in your mouth. But we'd gone there the two times previous to those two and won. Sometimes it happens like that. But we're focused on what we need to do this weekend and hopefully we'll get it right."
Intensity
Flood says the local rivalry adds extra spice to the occasion.
"It was a real eye-opener when I came here to see and feel the intensity of the rivalry," said Flood. "A lot of us live on the border between Leicestershire and Northamptonshire and there's a real mix of fans there. There's a real buzz about the game so it's great.
"We expected it (a derby in the final) a couple of years ago when Saracens ended up beating Northampton at Franklin's Gardens so it's nice that it's come full circle and we've got an East Midlands derby.
"I'm sure Northampton are excited, it's a first Premiership final for them and we need to be right on it because we need to match and better those excitement and morale levels that they will have.
"They will be dangerous. They are in exceptional form in recent weeks and to do what they did down at Saracens in the semi-final was as good a performance as you've seen from them in a long time.
"They were outstanding. And the nature of this being their first final can sometimes be a real positive if the excitement levels are huge.
"But likewise for us, we know what we need to do to get it right and we'll need to use that experience as much as we can. You don't know how much of a factor it is because it's always hard to talk about the pros and cons of a hypothetical beast. But we'll see how it goes and hopefully it will be good for us."
Flood, who missed last season's 30-23 defeat to Quins in the final, says there is no chance of underestimating Saints.
"It was disappointing last year," he said. "It was tough watching from the sidelines. A lot of people had us down as favourites for that final and we came unstuck.
"Likewise this year, if that's the way people are looking at it, it only serves as a really nice reminder that it's not a given. Anything can happen in a final. You only need to look at Wigan against Manchester City in the FA Cup final and even the Heineken Cup final, Clermont against Toulon, where Clermont were in charge for large parts but got edged out.
"We're fully aware of the difficulties that a final brings."