Richard Cockerill hails Leicester's Aviva Premiership final win
Richard Cockerill heaped praise on Leicester after the 37-17 win over Northampton in the Aviva Premiership final.
Last Updated: 26/05/13 12:12pm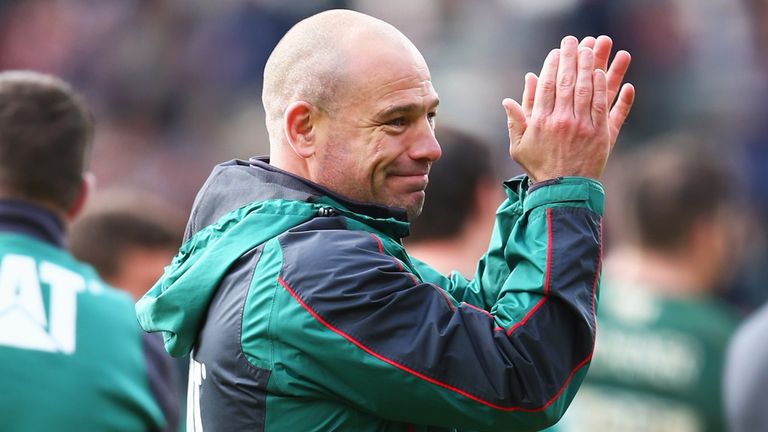 Leicester won it with tries from Niall Morris, Vereneki Goneva, Graham Kitchener and Manu Tuilagi, while Dylan Hartley's dismissal just before the break left Northampton facing an uphill battle.
The Tigers had previously suffered successive final defeats at Twickenham and Cockerill believes his current crop of players deserve to be mentioned alongside the club's other former stars.
"It is a great victory for us today," Cockerill said.
"This is a club steeped in history. We talk a lot about all the other great teams and the Martin Johnsons and the Neil Backs and all those who have gone before them.
"But now it is about this team in 2013."
Toby Flood was withdrawn with concussion in the first-half after a crunching challenge from Courtney Lawes, who was penalised by the referee, but an angry Cockerill felt it deserved a more severe punishment.
Claims dismissed
Northampton assistant coach Dorian West accused Cockerill of "intimidating" match officials, but he dismissed these claims.
Cockerill said: "They were calling for a spinal board because our player has been hit late. I was saying to the fourth official 'surely we need to go to the TMO'. I said the same to (referees' chief) Ed Morrison.
"We used the TMO the whole season. It has been called foul play, we get a penalty so it is clearly foul play, it is late and you have broken an international fly-half who is very important to our game.
"For me, that is the sanction of a yellow card and potentially more. A guy has had to leave the field because of that incident.
"So it is okay to hit players late and it is okay to leave the field concussed is it? I am protecting my players.
"I am allowed to talk to the officials. When a player of ours is potentially seriously injured I will talk to whoever I want.
"How Northampton decide to behave is up to them. I didn't ask anybody to hit anybody late. I didn't ask anybody to swear at anybody, did I?
"Before they make any smart-arse comments about me, maybe they want to look at themselves because my players weren't accusing the referee of anything or hitting people late."