Aviva Premiership: Leicester coach Richard Cockerill charged over Twickenham bust-up
Leicester coach Richard Cockerill has been charged over his behaviour during the Aviva Premiership final.
Last Updated: 03/06/13 6:45pm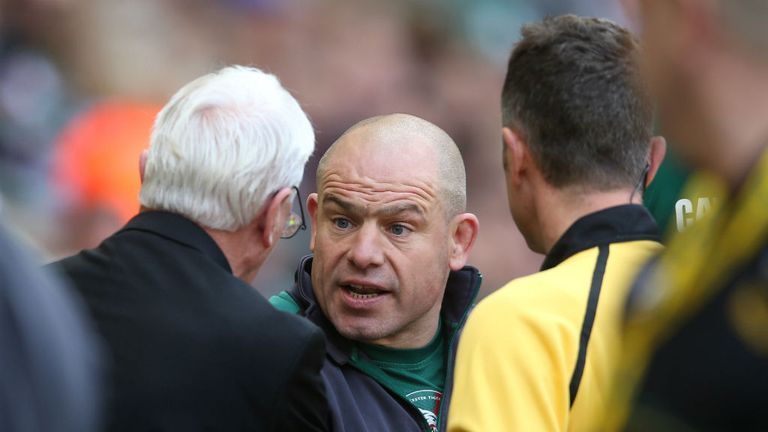 Cockerill is alleged to have used obscene, inappropriate and/or unprofessional language and behaviour during an exchange with Stuart Terheege on the touchline during last month's Twickenham showpiece.
Leicester went on to win the game 37-17 to secure the title for the first time since 2010.
Cockerill, who is accused of conduct prejudicial to the interests of the game, will face a hearing at a date, time and venue to be confirmed.
He was infuriated by what he viewed as a late tackle by Courtney Lawes on Toby Flood - referee Wayne Barnes penalised Lawes but did not show him a yellow card and Flood was subsequently forced off with concussion.
Cockerill came down to pitchside and remonstrated with Terheege, arguing that the challenge needed to be penalised more heavily, and Saints coach Dorian West said at half-time that Cockerill had been intimidating officials.
Speaking after the game, Cockerill said: "They were calling for a spinal board because our player has been hit late.
"I was saying to the fourth official 'surely we need to go to the TMO'. I said
the same to (referees' chief) Ed Morrison.
"We used the TMO the whole season. It has been called foul play, we get a penalty so it is clearly foul play, it is late and you have broken an international fly-half who is very important to our game.
"For me, that is the sanction of a yellow card and potentially more. A guy has had to leave the field because of that incident.
"I am allowed to talk to the officials. When a player of ours is potentially seriously injured I will talk to whoever I want."