Leicester Tigers boss Richard Cockerill: RFU must enforce similar swearing bans
Suspended Leicester boss Richard Cockerill wants bans for all directors of rugby who use abusive language.
Last Updated: 16/08/13 6:21pm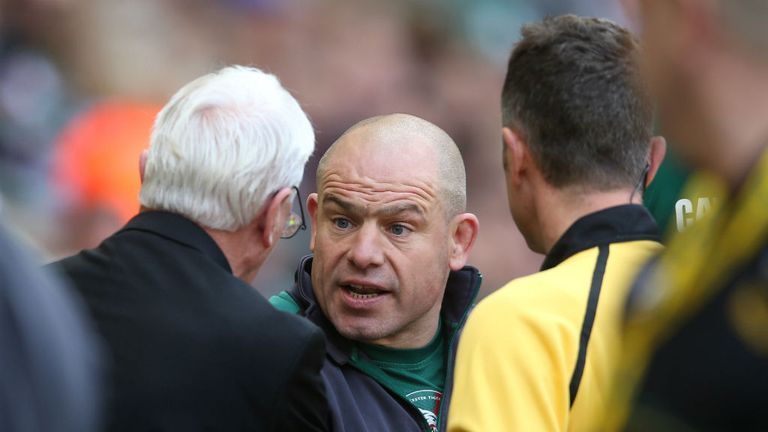 Cockerill was banned for nine matches until October 9 for his conduct during Leicester's 37-17 victory over Northampton in the Aviva Premiership final last season.
An RFU hearing found that he used obscene, inappropriate and unprofessional language towards fourth official Stuart Terheege, although Cockerill stresses that he did not abuse him directly.
The Leicester Tigers director of rugby, who will not be allowed any matchday involvement with the team, wants the RFU to enforce similar punishments on any management found swearing on the sidelines.
"Clearly some have felt that what I did in the final brought the game into disrepute," Cockerill said. "I just hope now that every time a director of rugby or manager swears on the touchline they're charged with bringing the game into disrepute for using foul and abusive language.
"I also want to make the point that I did not abuse any officials. Everybody seems to keep writing that I was banned for abusing the officials when in fact I was banned for using foul and abusive language.
"The next time anyone says an F-word or C-word in the heat of battle on the touchline, I expect them to be called before a disciplinary and banned for a similar amount of time.
"The Rugby Football Union has now set the agenda on this, my case is now the benchmark."
'Unacceptable
Cockerill was suspended for four weeks in 2009 after pleading guilty to two offences of abusing match officials and admitted at the time that his behaviour was "unacceptable".
The current ban and failure by an appeal hearing to reduce its length has frustrated Leicester, however, with chief executive Simon Cohen promising further action.
Cockerill will modify his approach if a similar situation arises in the future, but stresses that his loyalty will always rest with his players.
"I did what I did, I've been punished. If you look at it in the cold light of day, then I shouldn't have done what I did. Was I disappointed? No, I probably got what I deserved," Cockerill said.
"I'm missing seven games and my job is on the line. You want to be there with the players. How much they'll miss me? Who knows.
"If something happens on the pitch to the players that warrants me having a discussion with the fourth official, I might not use the same language.
"I might talk to him really nicely so that I don't look like a short, bald aggressive bloke. I'll do what I need to do.
"One of the core values at Leicester is loyalty. I'm very loyal to the players, they're very loyal to me.
"I'm very loyal to the club and they're very loyal to me, that's just the way it is. We support everyone who works here.
"The board have been very supportive and we've had discussions about that. That's what Leicester's about, you're either in or you're out. And I'm in."