Benji Marshall released from union contract ahead of likely NRL return
Former New Zealand rugby league captain Benji Marshall has officially been released from his union contract.
Last Updated: 23/04/14 11:42am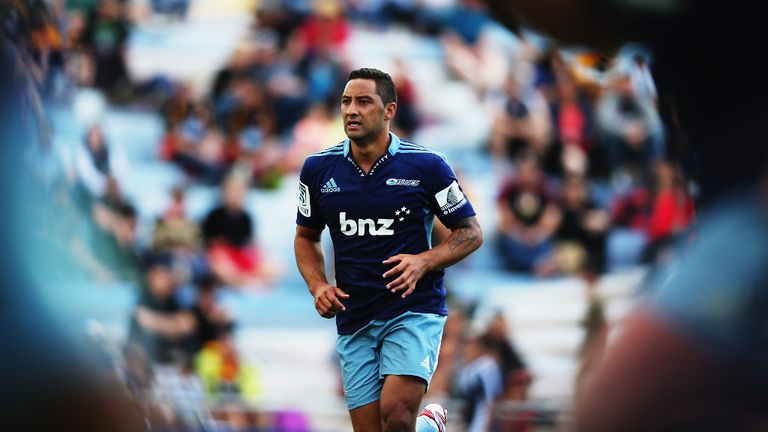 The 29-year-old asked for his release earlier this week from his club, and his deal with the New Zealand Rugby Union, after a brief foray into the 15-man game which proved less than successful.
Marshall's release had to be signed off by the NZRU - which was done on Wednesday - to free him for a return to league, with the Melbourne Storm and Cronulla Sharks among the leading candidates to sign him.
The 2008 RL World Cup winner had moved to union to try and make the All Blacks squad for the 2015 RU World Cup and possibly their sevens squad for the 2016 Olympics in Rio.
But he made only eight appearances for the Blues, one of them a start at full-back, with coach John Kirwan never sure where to best utilise the former league stand-off.
Better person
"On the field I certainly wanted to achieve more than how it panned out," Marshall said. "It didn't go that way but in terms of life it did 100 per cent.
"The Blues gave me the opportunity to be myself and express myself and I feel like I'm leaving as a better player and a better person for it."
Kirwan said: "I sat down with Benji and said I wouldn't be able to pick him in the 23 this week and felt that he needed to take a step backwards to come forwards, playing some club rugby and for the Blues development team to work on his game.
"I asked him honestly if he felt rugby was the game for him and his response was that he felt like a league player playing rugby union and that things weren't happening as fast as he would have liked, so we both decided it was probably best for him to return to playing league."