Matfield ponders Test return
Victor Matfield admits he is mulling over the prospect of coming out of retirement to lead the Springboks against England this summer.
Last Updated: 20/04/12 10:03am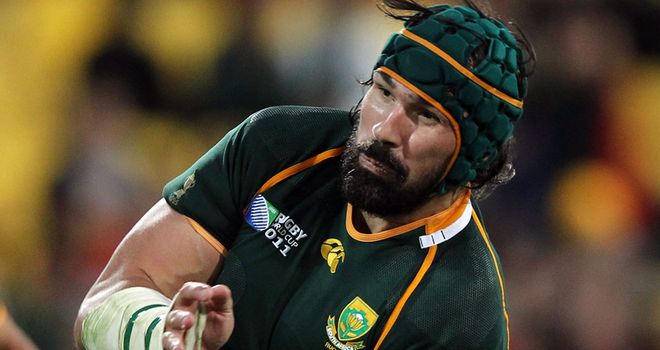 South African legend Victor Matfield has admitted he is mulling over the prospect of coming out of retirement to lead the Springboks in the three-Test series against England this summer.
The 34-year-old - South's Africa's most capped player with 114 appearances - called time on his international, and entire rugby, career at the conclusion of the World Cup in New Zealand last October.
Reports that he might rethink that decision and pull on the green and gold to face England this summer were initially dismissed as an April Fools' prank orchestrated by the local media.
However, Matfield has now confirmed he is thinking over the chance to represent his country once again after a request from new coach Heyneke Meyer.
"New Springbok coach Heyneke Meyer asked me to make a comeback to the playing field and it is something I am giving thought to, but we are a long way from anything being decided," Matfield said in a television interview.
Consideration
"If it were not Heyneke asking me I would not even be considering it."
Since retiring from the game as a player, Matfield has been working as a consultant for the Northern Bulls, with whom he won three Super 14 winners medals, and also as a television touchline analyst.
Meyer intensified speculation over a possible Matfield comeback after revealing that his skipper for the home England series could be a short-term appointment.
"The captain for the England Test series will not necessarily be the same one for the rest of the season," Meyer said, referring to six southern hemisphere championship games and the three-Test end-of-season tour to the United Kingdom.
"I will probably announce the captain a week before the first Test against England and there are a lot of great leaders to choose from."