The Chiefs to open the defence of their Super Rugby title against the Highlanders
Defending Super Rugby champions the Chiefs will kick-off the new season against the Highlanders.
Last Updated: 08/10/12 8:02am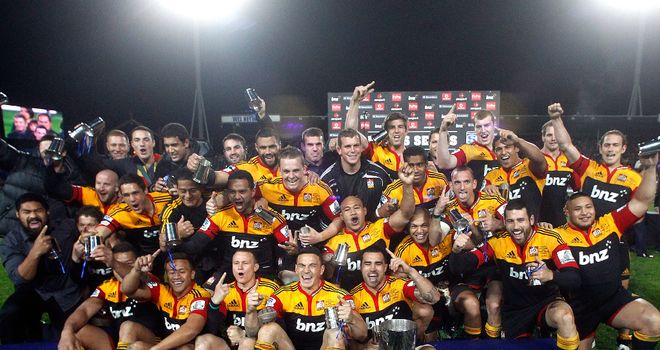 The Chiefs thumped the Sharks 37-6 in the final to claim the title - however their opening game of the 2013 campaign will take place a week after the season officially starts.
With the British and Irish Lions set to tour Australia in June and July, the fixture list has been tweaked to accommodate the three Tests.
That means the Australian franchise will start the season on February 15 and 16, with the Rebels taking on the Western Force and the Brumbies entertaining the 2011 champions the Reds.
New side the Southern Kings, who have replaced the Lions, will play their first-ever game in Port Elizabeth on February 23, when the Force are the visitors.
The Crusaders, though, will have to wait until Round Three to make their seasonal debut, with a trip to the Blues.
The play-offs will take place on July 19/20, with the 2013 final scheduled for August 3.
Opening rounds of action
Round 1 (Australian teams only)
Feb 15: Rebels v Force , Melbourne
Feb 16: Brumbies v Reds, Canberra
Bye: Waratahs.
Round 2
Feb 22: Highlanders v Chiefs, TBC
Feb 22: Rebels v Brumbies , Melbourne
Bulls v Stormers, Pretoria
Feb 23: Hurricanes v Blues, TBC
Feb 23: Reds v Waratahs , Brisbane
Feb 23: Cheetahs v Sharks , Bloemfontein
Feb 23: Southern Kings v Force , Port Elizabeth
Bye: Crusaders
Round 3
Mar 1: Blues v Crusaders, TBC
Mar 1: Reds v Hurricanes, Brisbane
Mar 2: Chiefs v Cheetahs, TBC
Mar 2: Waratahs v Rebels, Sydney
Mar 2: Bulls v Force, Pretoria
Mar 2: Sharks v Stormers, Durban
Byes: Brumbies, Highlanders, Kings