Australian Rugby Union interested in signing league superstar Benji Marshall
The Australian Rugby Union want league superstar Benji Marshall to stay in the country rather than move to New Zealand.
Last Updated: 26/07/13 8:08am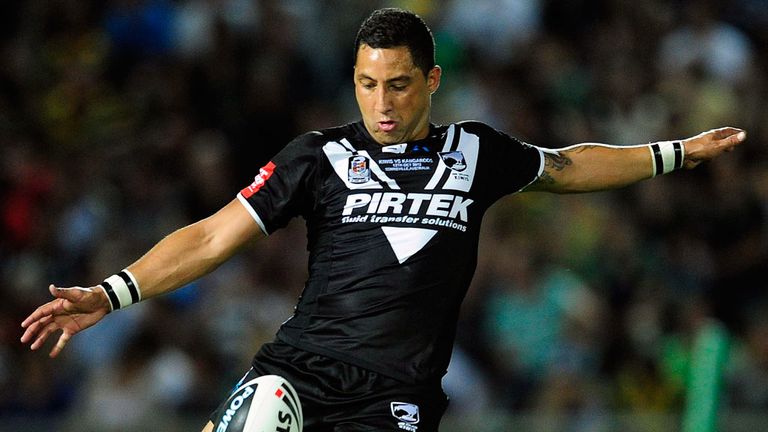 Marshall wants to quit NRL side West Tigers and switch to the 15-man code, with Auckland Blues currently favourite for the New Zealander.
Marshall's decision may hinge on whether he has serious ambitions to play for the All Blacks.
If he does, he would have to play his club rugby in New Zealand. If not, Super Rugby sides New South Wales Waratahs and ACT Brumbies have been linked with signing him.
Australian Rugby Union chief Bill Pulver said no deal had been agreed but admitted his interest.
"Benji's an intriguing prospect, who seems to have made it clear he's leaving rugby league," he said.
"He's looking at options in Australia and New Zealand so, yeah, there's some interest there.
Eligible
"I know there's some dialogue in both Australia and New Zealand but I have no new news in terms of where those discussions are."
Marshall captained New Zealand to the 2008 rugby league World Cup and his manager has said that he has no interest in representing the Wallabies should he decide to stay in Australia.
That, Pulver said, means the ARU would not have to top up his salary, as they do with other high profile international players.
"The ARU would only put money into a player like Benji if he was doing something at a national level," he said. "He's eligible, but would he play?"
If Marshall did join the Waratahs, he would be likely to play alongside fellow league convert Israel Folau who made a sensational impact in his first season in union and played for the Wallabies against the British and Irish Lions.
Reports in the Australian media suggest Folau is close to signing a new two-year deal with the ARU.
Pulver said: "I'm delighted to see all the positive speculation this morning and I am conscious of dialogue going on but I have not seen a signed contract. I have been waiting for weeks so I'm hoping it's imminent, but it's not done."