The Lions must stop Will Genia and Quade Cooper by beating the Wallabies upfront, says Michael Lynagh
The form of Will Genia and Quade Cooper will keep the Lions on their toes, says Michael Lynagh
Last Updated: 10/05/13 2:17pm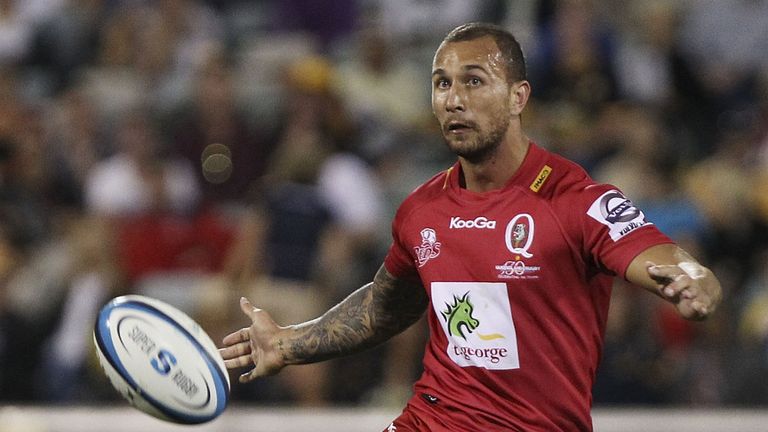 The halfback pairing of Genia and Cooper starred in the Queensland Reds' 32-17 win over the Sharks at Suncorp Stadium in Brisbane - venue for the first British & Irish Lions Test on June 22nd.
Four tries in the first half ended the match as a contest, allowing the Reds to make some changes and defend their lead. The Sharks did score twice in the second half, but could not get close enough to force the Reds out of their defensive mode.
"The Reds have been playing very well at pace - quick ball from the forwards and Cooper has had a hand in everything," said Lynagh on Sky Sports.
"Not just with his passing but with his kicking as well. He has had some lovely touches, doing what he does best which is offloading. He has been seeing the options and sending them away.
"They will be very happy with that first half performance, with Cooper controlling things very nicely and mixing it up. In the second half they were a bit slow out of the blocks but the job had been done. They made a few changes and it got a bit loose. The Sharks came back into the game but it's a nice win, some great tries and a great team performance."
The marmite-like Cooper has split fans as to whether he should or shouldn't be wearing the Wallaby No.10 jersey for the Lions tour. And though he faces stiff competition from the likes of James O'Connor and Kurtley Beale, Lynagh believes his combination with Genia will be crucial for Australia.
"That sort of combination is so key, especially when they are going to have little or no game time before the first Test," added the former Wallaby fly-half.
"To have those two in the team could be vital - they are both game breakers on their own. I think Cooper all year has been getting better. He is playing a little more conservatively in terms of getting field position and is making decisions nicely. He is playing very well.
"I think Cooper and Genia will influence the way the Lions look at the game. They will see those two - plus others in the backs who are dangerous. You mark one but then there is James O'Connor or Digby Ioane, or Kurtley Beale. It is a difficult situation to mark all these players.
"But it is all down to the forwards and that is where the Lions can attack Australia and try and quell the influence that the Australian backs have. If the forward pack is going backwards on Genia, well I don't care who he is, he is going to have a harder role to play. The way you stop these guys is stopping the flow of the ball, you disrupt it."
Former All Black hooker Sean Fitzpatrick agrees with Lynagh and believes Cooper has developed his all-round game.
"You look at where Cooper was two years ago at the World Cup - a player under pressure who did not perform too well did he," said Fitzpatrick.
"But he has matured as a player in terms of the way he directs play and his defence is a lot better. He is a more complete player than he was two years ago.
"But Super Rugby level is totally different to Test rugby and that is where he has been exposed before. I am sure Gatland and the Lions management will be looking to expose him - he needs to be able to cope with that."
Over for Beale?
One of Coopers competitors for that No.10 jersey is Kurtley Beale - but his future with the Wallabies remains in doubt after another suspension.
Beale has been suspended for allegedly drinking after the Rebels game against the Chiefs, breaking the strict behavioural conditions that were implemented after he returned from a six week ban for fighting with his Rebels team mates Gareth Delve and Cooper Vuna.
"It is very disappointing to hear he has been suspended again for going against the protocol that he set up for himself, the Rebels and the ARU," added Lynagh.
"I don't know what will happen and I am disappointed that he has lapsed back into it. I am also disappointed by the Rebel management and players - they know he has a problem so shelter him and keep him away from any temptations. I don't think that has happened. I think there needs to be more controls put around him.
"As an individual we want him being a great rugby player but also a person who is in control of his life."