Owen pains
The Sky Sports experts said Saracens' rotation policy may be to blame for Owen Farrell's Wembley woes.
Last Updated: 16/09/12 12:33pm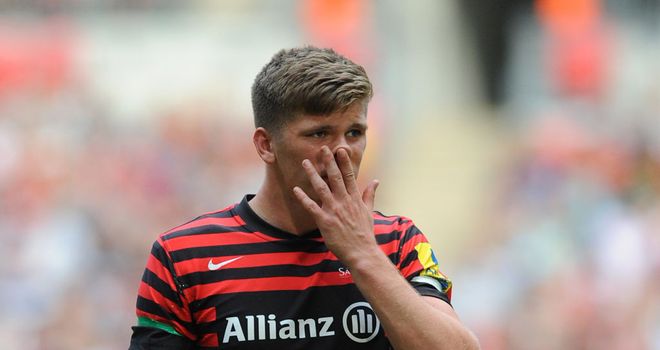 The Sky Sports experts said Saracens' rotation policy may be to blame for Owen Farrell's poor display at Wembley.
The England fly-half endured a difficult afternoon against Leicester, missing four out of five penalty attempts in the first half before being replaced by Charlie Hodgson early in the second.
Hodgson had started both of Saracens' previous Premiership games this season and Sky Sports expert Dewi Morris believes he should have been given the nod for the Wembley clash.
"This is what happens if you have a rotation policy," Morris said.
"Charlie Hodgson has been up there with Nick Evans as the form fly-half. That's why they get the fluidity and do the right things at the right time.
"Unfortunately it was Farrell's turn to do it. He's a young lad and he just had one of those horrible days. He missed 12 kickable points and Saracens would have won this quite comfortably if he'd have kicked his goals.
"He knows that and the coaches know that, but they won't be blaming him. He'll be kicking a thousand balls tomorrow.
"It happens on certain days and I think they made the right call because as soon as Charlie came on you saw a different Sarries."
Strange
Saracens have adopted a strict selection policy whereby Hodgson and Farrell each start two games in rotation.
But fellow Sky Sports pundit Dean Ryan felt that asking the 20-year-old to make his first start of the campaign in a high-profile match at Wembley was a flawed decision.
"It was really strange to see the selection," he said.
"You're starting the season and you want a little bit of momentum, but you throw him into a Wembley game?
"He's still trying to shake off a little bit of his pre-season, but the first thing he gets is a kick-off in front of 45,000 people. I thought it could have been made a lot easier, especially at the beginning of the season.
"I understand rotation and the need to keep all the players happy and rolling, but if Charlie had started and they'd brought Owen on then Owen would be better for it and it rolls into the next game."
Concern
Saracens coach Mark McCall has already tipped Farrell to bounce back from his poor display, but Will Greenwood says England coach Stuart Lancaster will be worried by what he saw.
"It's a huge concern," he said.
"He went to South Africa as the number one shot and Toby Flood came back with the number one jersey. Freddie Burns and George Ford are sniffing around too.
"You've got to come, be more forceful and get your gain line going. One of the things Farrell had in his armoury was that he didn't miss kicks in the Six Nations last year.
"If you start taking that away from his game then he definitely drops behind Flood."