Rugby union: Former England captain Steve Borthwick to retire at the end of season
Saracens forward Steve Borthwick has announced he is to retire at the end of the season.
Last Updated: 28/11/13 3:42pm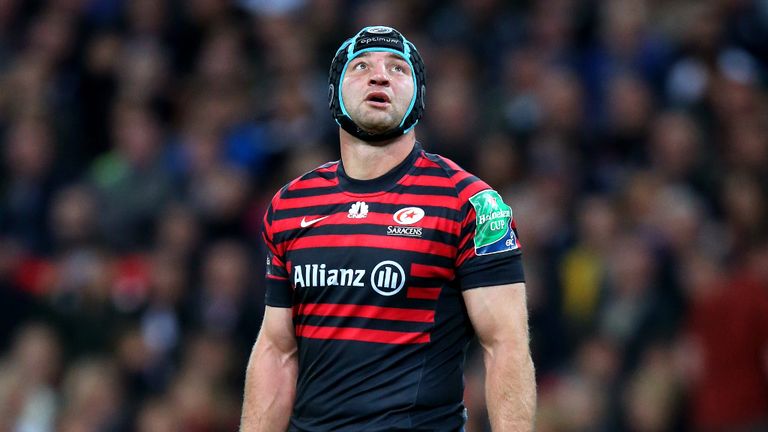 The 34-year-old former England captain has decided to bring down the curtain on his 16-year career despite being offered a new one-year contract by Saracens.
Borthwick, who won 57 caps for England and captained his country 21 times, told the London Evening Standard: "Sarries asked me last March if I would keep playing after this season and I thought long and hard about my decision.
"At the end of September I told the club, 'Thanks but I am going to retire at the end of this season'. There are a few reasons; I didn't want my level of performance to drop and I wanted to make sure I retired on my terms, playing well and being fit and healthy.
"I believe it's the right time and very few players have the opportunity to say, 'I am going to finish on my terms' rather than when someone says they don't want you any more.
"Rugby is a very demanding sport and takes a toll on your body and it's a factor as well because you want to be in a good shape later on in life. I realise very few players get the opportunity I've been given."
'Saracens legend'
Lock Borthwick started his career with Bath and made 246 appearances for the club before moving on to Saracens in 2008.
He has played 117 games for Sarries so far and is hoping to end his career on a high with success in both the Aviva Premiership and Heineken Cup.
"We have a great squad at Sarries and we've had some very big lessons - none more so than at the end of last season in the both the Premiership and Heineken Cup. We were in a great position in both and didn't get the outcomes we wanted and have worked extremely hard," said Borthwick, who led Saracens to the 2011 Aviva Premiership title.
"The squad are even stronger this year and we are striving to make the end of season possibilities a reality and are heading in the right direction."
Saracens director of rugby Mark McCall said: "Steve has become a Saracens legend, as a leader, as a player, as man who sets the highest standards in everything he does.
"He will be sorely missed in due course but, for now, with Steve at the helm, we are focused on Saturday's match against Sale."