Aviva Premiership: Mouritz Botha looking to help Saracens land major honours
Mouritz Botha hopes he and Saracens will have plenty of cause for celebration in what could be a very productive 2014.
By Chris Burton
Last Updated: 20/12/13 10:02am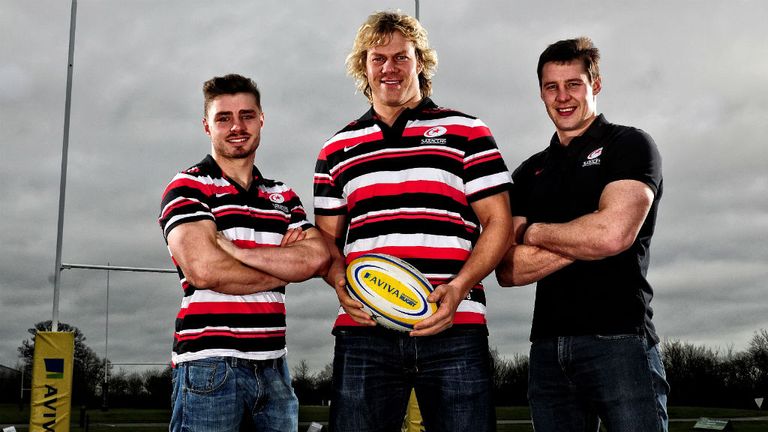 The men from Allianz Park currently sit top of the Aviva Premiership standings and are have made solid progress thus far in their continental Heineken Cup campaign.
Botha admits it would be foolish to get carried away with so many big tests still to come, but he is convinced that Sarries will be in the mix when the prizes are handed out in May.
He told Sky Sports while speaking on behalf of sponsors Aviva: "We're going along well so far. It's still very early in the season to be too excited about the position you're in. We have lost a couple of games - the game we lost against the Saints, we need to learn from it and hopefully when it comes down to those situations again we will be better for it.
"In the Heineken Cup, we need to get out of our pool. We have got a tough game coming up against Toulouse away. We can go away and do a job there and I'm sure everyone will be up for that challenge. That's something we're looking forward to.
"We competed on both fronts last season and lost in the semi-finals. There is no disgrace in that. Certainly the Toulon game, it could have gone the other way. Against Northampton we got outmuscled, but that's something we have been working on and if we get in that position again then we will be ready for it."
Pressed on whether the usual suspects will come together when the business end of the season arrives, Botha added: "Looking at the form, Bath are obviously strong, there is a case for Northampton, Wasps and Exeter will be pushing to get in the top four as well. There will be the usual suspects and there will also be some good teams pushing hard to get into it. I think the top six will be quite tight."
Botha is hoping he will play a leading role in the trophy charge, but is currently in the process of shaking off an ankle complaint. He said: "I'm hoping to be back next week, possibly involved in that squad next week, or otherwise the week afterwards."
Fortunately, Saracens are well-stocked when it comes to second row talent.
Botha said: "The squad does have quite a bit of depth in it. If you look at our squad, we have got quite a big squad but credit to the club for bringing the young players through and developing them."
Skills
Among those providing competition at lock is Hayden Smith, a man who has returned to English rugby after trying his luck in the NFL with the New York Jets.
"He's been away, come back and has new ideas," Botha said of the USA international.
"It's great to have him back. I think there are a lot of skills that he has learnt. He's just concentrating on getting back into the swing of things. Having been away for a year-and-a-half, there are a lot of skills that he needs to polish and get back up to speed."
Also in the mix for a place in the Saracens pack is former England captain Steve Borthwick - a man who is set to slip into retirement at the end of the season and will hang up his boots with a status as a modern day great safely secured.
Botha said of his illustrious colleague: "Steve has had one of the most successful and biggest Premiership careers. He has played the most minutes, by a long way, of anyone in the Premiership. Losing him will be a really big loss, but it is a big opportunity for guys to step up and play.
"When I first joined Saracens, I was told by people who had played with Steve before: 'Just stick with Steve and learn as much from him as you can'. I did and that has really helped my career develop. I have strengthened in different areas and have certainly learnt a lot from him and owe him a lot."
South African-born Botha has followed in Borthwick's footsteps by gracing the England national side and admits he still harbours of ambitions of forcing his way back into the fold despite facing intense competition for places from rising stars such as Wasps' Joe Launchbury and Northampton's Courtney Lawes.
He added: "It wasn't long ago when it was a position that England didn't have much strength in, for two or three years, but if you look at it now, those guys coming through have made it a difficult position to get into the squad. There is a lot of competition and it's a really strong position.
"At the moment, I have had a stop-start season with injuries and I just need to focus on getting into the starting XV every week. Hopefully, if I can do that, I can show some form and then, who knows, I might be ready. It's definitely something that I want to do and want to be a part of. I have international aspirations and I'm ready for the challenge. Hopefully it all goes well."
Aviva are proud sponsors of Premiership Rugby. For more information on Aviva's home insurance deals, go to aviva.co.uk/insurance