Aviva Premiership: Dean Ryan confident of keeping Chris Pennell despite Worcester's relegation
Dean Ryan believes Worcester can still hold on to prized asset Chris Pennell, despite his side's relegation.
Last Updated: 03/05/14 9:50pm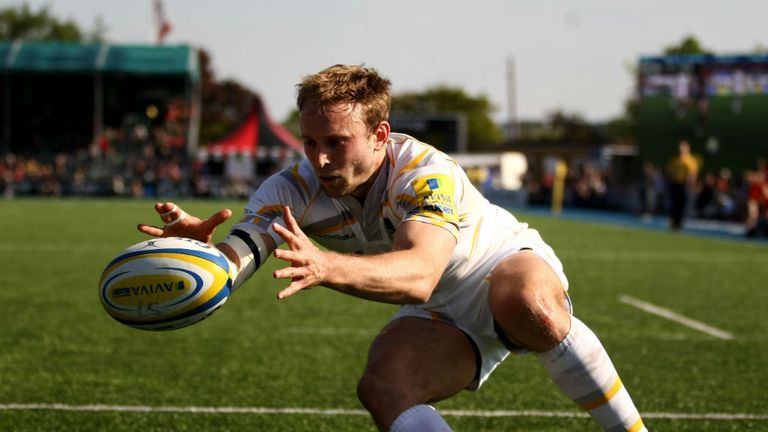 Warriors boss Ryan is confident of keeping the highly-rated full-back at the club, even in the wake of his side's 44-20 defeat at Allianz Park, which confirmed their last-placed Premiership finish with one round of matches still to play.
"We're in the Championship now, so we can stop talking about ifs," said the deflated Worcester rugby director. "We're in the Championship and that's going to drive us on, because that's going to hurt.
"There's some big players in that changing room, that it's going to hurt. It will hurt egos, it will test humility and everything else. But it's got to be a driver to ensure we come back to this level."
Worcester-born Pennell has been the Warriors' star in a dismal campaign that has yielded just one win in 21 league games so far.
The 27-year-old signed a three-year contract extension in December and Ryan believes he will honour that agreement.
Pennell tops the charts for metres gained across the entire Premiership, with boss Ryan continually tipping him for England honours.
Asked whether Pennell would stomach relegation and the prospect of a season in the Championship, Ryan said: "Of course he can, why wouldn't he?
"He should be playing for England, but his club's in the Championship, and he's going to be playing in the Championship.
"He's one of the most driven people about ensuring that this place becomes a successful environment. What's happened to this club had to happen.
"If we'd survived in the Premiership it would have been tough, because it has to change, it has to go about its business differently, it has to start growing people, supporting people and people have to come here because it is their club, not a stepping stone or a retirement home.
"And we'll make sure that happens."
McCall delighted
Saracens flanker Jackson Wray claimed a hat-trick, with Chris Ashton grabbing a brace and David Strettle also crossing in the home side's one-side victory.
Pennell claimed two tries of his own, with Semisi Taulava also going over for Worcester, but the visitors were outclassed.
Saracens have already surpassed the regular-season record for Premiership points scored, leaving rugby director Mark McCall delighted with his team's progress.
"Breaking that record has to mean something for us, you've got to be proud of certain things," said McCall. "And for us to finish top of the tree in the regular season again is a good thing.
"To have more wins than last year and score double the amount of tries probably on last year, that's a sign of progress.
"We're in a Heineken Cup final which is one step further than last year."
Backing Worcester to return to the Premiership at the earliest opportunity, McCall said: "We played them just before Christmas and they are a transformed team from the one that we played then.
"They just seemed beaten before the first whistle then, and that team wasn't like that today, they fought for everything.
"They've got some real talent if they keep it all, especially in the back line and I've got no doubt they'll come back stronger for this.
"The last three months they have actually played well. They've got a good coaching team and they'll be back stronger in time."