Heineken Cup final: Owen Farrell ready for showdown with Jonny Wilkinson
Owen Farrell urges Saracens not to make the same mistakes when they face Toulon again in Saturday's Heineken Cup final.
Last Updated: 23/05/14 2:56pm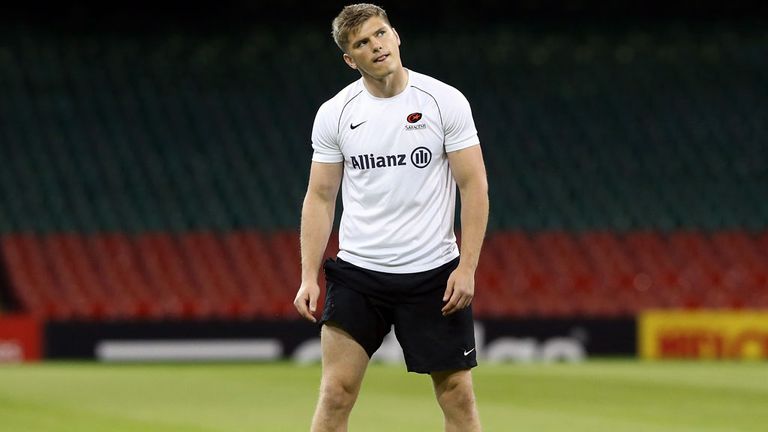 Jonny Wilkinson inspired Toulon to a 24-12 win over Saracens in last season's semi-final, kicking seven penalties and a drop goal at Twickenham.
Farrell will lock horns with his fellow English fly-half once more this weekend, with Wilkinson seeking the perfect send-off before he retires from the game.
His 22-year-old opponent is hoping to spoil the farewell party, but admits Saracens cannot surrender too many penalties to one of the calmest kickers in rugby.
"I think we've learned a lot. It's a long time ago now that defeat," Farrell told Sky Sports News.
"It's probably two different teams coming up against each other tomorrow but we probably made too many mistakes in our own half. A lot of points came from when they kicked off to us and we didn't execute too well and I think that's what we've been outstanding at this year.
"We've just got to make sure that we apply the pressure in the right parts of the field, which we have been doing. Other than that, we've just got to make good decisions."
Improvement
Farrell's reputation has been enhanced in the last 12 months following some impressive performances in the Six Nations and he will link up with England's touring party in New Zealand after the game.
But Farrell pays little attention to praise as he strives to improve every area of his game.
"Hopefully I've got a bit better," he said. "It's about going from game to game from week-to-week.
"It's not for me about looking that far back and seeing where I've come to now. It's about what's happening now and how I can get better and keep progressing.
"We've been doing that as a team and that's why I think we've ended up where we are now."
The England man says he is relishing facing Wilkinson.
"He is one of the very few players who have come into the game and set his own standards," said Farrell.
"He has not lived by anybody else's expectations, he has set his own.
"There are very few people who do that, and there will be very few people who do that in the future.
"When that type of player comes along, it's pretty special. Obviously, everybody knows how special it is because of the career he has had."