Mark McCall pays tribute to retiring lock Steve Borthwick
Saracens boss Mark McCall has paid a glowing tribute to Steve Borthwick as the veteran lock heads into retirement.
Last Updated: 01/06/14 3:59pm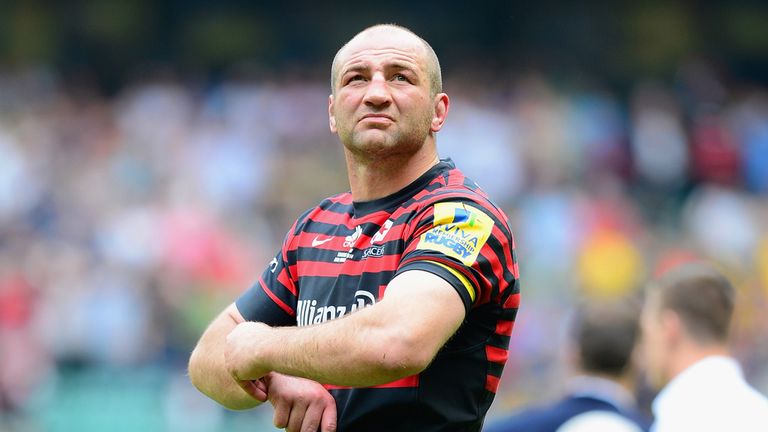 The former England captain was unable to end his career on a winning note as Sarries suffered a 24-20 extra-time defeat to Northampton in the Aviva Premiership final at Twickenham.
But McCall believes the veteran forward should be held in the same regard as the likes of Jonny Wilkinson and Brian O'Driscoll, who also played the final games of their careers on Saturday.
"I don't know whether people will see it that way where Steve is concerned, but he should be considered in similar regard to those other two who are retiring as well, shouldn't he?" said McCall.
"The record Premiership appearance holder, more than 50 caps for England: he's squeezed every ounce out of his body over a 16-year period.
"I think he deserves it but I'm sure he might not receive that same level of recognition."
Borthwick battled past pectoral injury trouble to appear in Saracens' Heineken Cup and Aviva Premiership finals, only for the north Londoners to lose both.
But McCall insisted that retiring without another trophy will not dent Borthwick's legacy one bit.
Ambassador
"It's irrelevant in a way that he couldn't finish with a trophy, because he's just been such an extraordinary ambassador for the sport," added McCall.
"He's been a wonderful player and captain for Bath, and a wonderful player and captain for us. He's been a huge part of the progress we've made in the last five seasons.
"Did he deserve better at Twickenham? Probably, but he won't complain about it, because that's not in his nature.
"What he wanted from his team-mates before the game was a level of effort and commitment from each other, which he got.
"So he'll be disappointed, but he'll be unbelievably proud and satisfied with what his team-mates have given."