Dickinson raring to go
Sale prop Alasdair Dickinson is ready to fight for his shirt after being ruled out of the season opener against Exeter.
Last Updated: 30/08/12 8:20am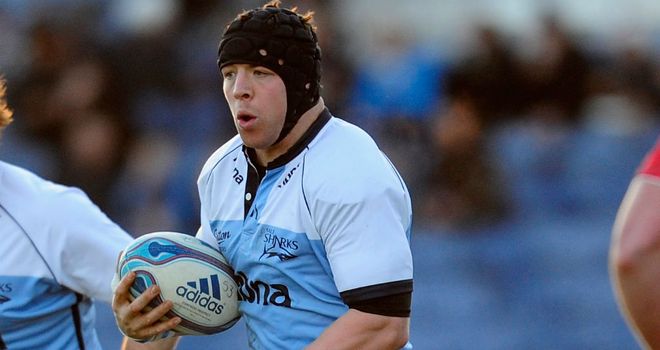 Sale prop Alasdair Dickinson is ready to fight for his shirt after being ruled out of the season opener against Exeter.
While the Sharks squad will be kicking off their 2012/13 challenge against the Chiefs on Saturday, the 28-year-old will be back at Carrington training.
The Scotland international made the last of his 15 appearances for the Sharks back in March against Newcastle, with Dickinson having undergone surgery to correct a long-standing shoulder problem.
With his rehabilitation - which forced his to miss the pre-season programme of games - almost complete, Dickinson is determined to reclaim his place in the side.
However Dickinson, who joined Sale from Gloucester in 2011, knows there is real competition for places, with Tony Buckley, Henry Thomas, Eifion Roberts, Vadim Cobilas and Aston Croall - as well as academy products Ross Harrison and James Flynn - vying for the propping duties.
"There is massive competition across the club for places," he told Sky Sports.
"The props we've got are world-class in my view. That brings out the best in you as you know you can't afford to rest on your laurels as there is always someone else after your shirt.
"It is going to be tough to keep your place but it will be good at the same time. The Premiership is brutal, there are no easy games. People are going to pick up knocks and injuries so you have to rotate.
"A run of 30-35 games is brutal so you just have to get your head down and focus on your job. If you are playing well you will make it hard not to be picked, so it is then the problem of the coaches."
Disappointing
Having not played for five months Dickinson is understandably frustrated at missing out on another game on Saturday - however he knows that it is for the greater good.
"The shoulder is pretty good," he said. "I've had a couple of weeks of contact now and it is feeling fine.
"It was decided that we would give it an extra couple of weeks, though, as a precaution. It means I will miss the game against Exeter but I hope to be back to face Saracens.
"It is disappointing not to be playing but in the greater scheme of things it is a pretty long season so to miss one game of things as a precaution makes sense if I am honest.
"Pre-season has been really good. It has been pretty awesome to be back out there but it has been tough as well. I just can't wait to play now and to get back out on to the pitch as it has been a long time."
Sale have been tipped by many to be this season's dark horses - especially given the signings of Danny Cipriani and Richie Gray.
And Dickinson admits that the squad want to build on last season's top-six finish.
"As a club we haven't set any targets but as a player you've got to be looking at the top four," he added.
"We know it is going to be tough - that is the nature of the Premiership - but as players we set our sights pretty high."