Dean Richards felt Newcastle were worthy winners over Sale
Newcastle director of rugby Dean Richards thought his side deserved their narrow Aviva Premiership victory over Sale.
Last Updated: 14/09/13 10:51am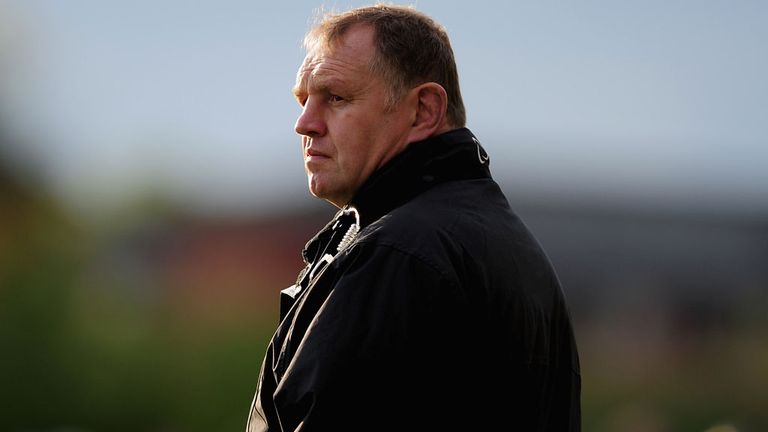 The newly-promoted Falcons lost 21-0 to Bath on their return to the top flight last week but have now opened their account with a tight 15-14 win at the newly-named AJ Bell Stadium.
Newcastle trailed 11-3 at one point but hit back, Phil Godman kicking four penalties in the match before his replacement Rory Clegg struck the clincher with 13 minutes left.
"We probably edged it in the second half and deserved to win," said Richards.
"Full credit to our boys, look at the defence in the last five, 10 minutes. I thought we were under the cosh a little bit because we were quite happy to give them possession but I thought we defended extremely well, putting our bodies on the line, and that was probably the thing that got us the result."
Newcastle again had to contend with wet conditions and Richards added: "You look at the conditions last week, atrocious conditions, and we turn up today and it's pretty poor conditions again.
"In the first two weeks of the season you expect either sunshine or some reasonable conditions. We've had neither so far and we've come away with a win and a loss."
Diamond disappointed
Sale director of rugby Steve Diamond said: "I thought first half we had a lot of ball and tried to do stuff with it, and we got a try in the corner, but we just couldn't get away from Newcastle.
"Second half I thought they were a far better, streetwise team than ourselves. They didn't allow us to play and a couple of decisions went against us.
"I'm thoroughly disappointed. That's how it goes but, on their second-half performance, I think they deserved their win."
Nick Macleod was picked ahead of former England fly-half Danny Cipriani but missed a conversion and a pair of penalties.
Diamond added: "We expect our kickers to be at high percentages and he had a bit of an off day in that department, but tight games are won and lost on the kicks.
"Newcastle won it tonight through having an accurate kicker and being a bit more streetwise in the game."