Feet on the floor
Wales sensation George North talks exclusively to Sky Sports about how he still has a lot to learn.
By Peter Fraser - Follow me on Twitter @SkySportsPeteF
Last Updated: 24/02/12 9:42pm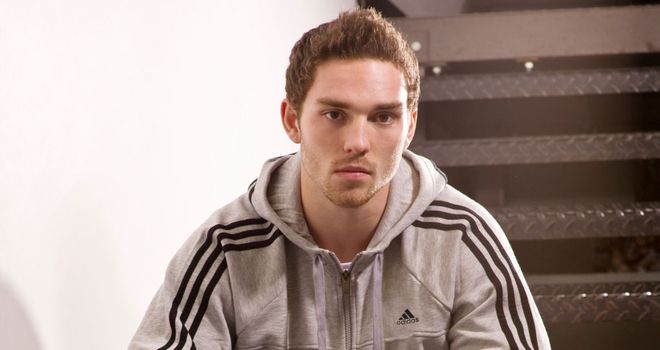 When Sky Sports spoke to George North at an event in Cardiff last May, he was somewhat of a giddy teenager. The 19-year-old was at the time anxiously waiting to find out if he would be involved in Wales' 2011 World Cup squad. He was waiting to discover if he would be included alongside men he 'idolised' and 'watched on TV'.
The Scarlets winger had no reason to be nervous. He was selected as the youngest member of Warren Gatland's 30-man line-up to travel to New Zealand and he has since not looked back.
North's powerful and nimble-footed performances in the Southern Hemisphere carved his reputation. Comparisons were made at the time to Jonah Lomu and they have stuck.
An impressive role in the narrow defeat in the World Cup group stages to South Africa was followed by another fine display in the victory over Samoa, which prevented Wales' campaign from finishing before it had effectively started. Two quick-fire tries in the hammering of Namibia then made him the youngest scorer in World Cup history. It has all led to a label as a star from Gatland and Colin Charvis among many others.
The World Cup ended after the agonisingly close semi-final defeat to France in Aukland last October. But the attention remains on North ahead of Saturday's Triple Crown clash with England in the Six Nations at Twickenham.
Such a spotlight would be expected to have impact on player who is still more than a month away from his 20th Birthday. But while the excitable teenager has shifted to one of composure, his modesty has remained.
"A lot has changed, if I'm honest," North, who, after an ankle injury, is fit to face England in a match which will have Grand Slam implications, told Sky Sports with a laugh. "It has been quite busy. The World Cup went well... couldn't complain. It has been a great year for myself. I'm just hoping I can keep it up for the Six Nations."
Compliments
North burst onto the scene with two tries on Test debut against then-world champions South Africa in the autumn internationals of 2010. It was a perfect demonstration of the no-fear aspect associated to youngsters which has become something of a cliché in sport. But his attitude has not been altered after now collecting 18 caps and scoring 50 points.
"Obviously, off the pitch it has been a bit different with all the media coverage and I have got more media duties," he said. "But on the pitch it is the same setup. If it is a game day and a game mentality, that has never changed and probably will never change."
Having grown up hero-worshipping the now-retired Shane Williams, and learning from Scotland's Sean Lamont at club level, North is himself an idol. Has he come to terms with his star billing?
"No," he replied. "But to have all these compliments from the likes of legends is massive for me. But I don't think I've done enough to have the compliments as of yet. Hopefully I can improve and show I am half as good as them.
"It is a case of keeping it up, working on the basic skills - catching and passing - and making sure my skills are good. If I was going to work on something, it would be to have a bit more work-rate on the park, get on the ball a bit more."
North's development over the last nine months means he will be one of the main threats to Stuart Lancaster's England at Twickenham on Saturday afternoon, when Wales will arguably begin as favourites. It has been a learning curve, although the player himself cannot quite put his finger on it.
Over the moon
"The World Cup was a great experience and I learnt a lot," he said. "You are playing back-to-back weeks and getting yourself ready, mentally, for the next match is key. I was just really enjoying my rugby. I learnt a lot, but it is hard to describe, if you know what I mean?
"The Samoa game was obviously a good one for me. We needed that to keep our tournament going. Once we beat Samoa, we had a bit more confidence in our ability. The whole group had such relief, because that was a must-win for us."
Surprisingly, North does not remember where he was when he received the phone call and confirmation email of his World Cup selection. But he has fond memories of the day.
"It was a happy one," he joked. "Everything became a bit brighter and it was like the sun was out. For me, it was a massive honour. To represent your country on the World Cup stage, I was over the moon."
But focus is now on the Six Nations and specifically recording a first Triple Crown victory since Wales' Grand Slam-winning squad of 2008 crossed the Severn Bridge to shock previous World Cup finalists England.
"It would mean everything to the boys," said North. "Obviously, we have been playing a good amount of rugby at the moment and it has been going well. If we have got a bit of silverware behind us, that is when we are really going to be able to shift and push us on again."
George North is one of the first rugby players to wear the adidas RS7 miCoach enabled boot, a boot that tracks player performance on the pitch, including distance covered and top speed. Visit www.micoach.com.