Six classic Six Nations games
We look back at six classic encounters from the Five/Six Nations Championship...
By Paul Vinnell
Last Updated: 01/02/13 9:22am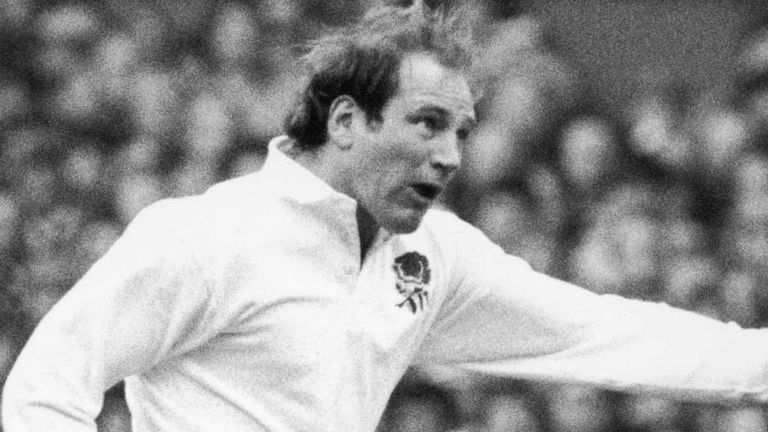 1980 - England 9 Wales 8
It was billed as the 1980 championship decider, and so it proved, England winning 9-8 - but the match sparked outrage in the sporting world.
England had won their opening two matches, and Wales had flattened France in their opener. But England had only beaten Wales once at Twickenham in their last nine attempts. The press predicted a thriller.
The host's team reads like a who's who of future leaders of the English game: captain Bill Beaumont, Fran Cotton, Peter Wheeler, Roger Uttley and, in midfield, one Clive Woodward.
It was expected to be a physical contest, but no-one could have foreseen what was to transpire. It was a bloodbath, one of the most ferocious encounters that can ever have been seen on any sporting field, let alone in rugby.
Within 60 seconds, England No 8 John Scott was exchanging punches with Paul Ringer. Then Scott and Terry Holmes - Cardiff team-mates - were scrapping. "It was like World War Three. It was all going on," said Graham Price, the Wales prop, remembers.
After 10 minutes referee David Burnett called the captains together and warned them to rein their teams in. It did not work.
Three minutes later Burnett sent Ringer off for a late tackle - with more than a hint of elbow - on England fly-half John Horton. Ringer admitted: "I wasn't surprised to be sent off. It was a cauldron out there."
Despite being down to 14, Wales dug in, and shortly after the sending off Jeff Squire pouncing on an English fumble to score. England lost Uttley to an off-the-ball kick to the head which needed 10 stitches as the bloodshed continued but Dusty Hare's boot inched England into a 6-4 lead deep into the second half.
Then on 74 Elgan Rees scored what looked like a winning try, but crucially he did get as near to the posts as he could have, and the conversion was missed.
And in the very last minute, Wales infringed at a ruck, and Hare nailed a penalty from the touchline to win it.
The reaction to the probably the most brutal Five Nations game ever witnessed? Condemnation all-round. "Someone will die!" roared an outraged Mirror.
Lord Wakefield, who captained England to the Grand Slam in 1924, raged: "I have never seen a game which had done more harm to the game of rugby." And Tony Bodley of the Daily Express wrote that the "first-half brutality and bloodshed shamed the game".
Hare's kick though set up what was to be England's Grand Slam. Victory over Scotland in the final match, with Beaumont famously carried off the field on the shoulders of the supporters at Murrayfield remains one of the iconic images of the tournament. But the title was really won against the Welsh four weeks earlier.
1990 - Scotland 13 England 7
Sometimes in sporting contests, context really is everything.
The Grand Slam decider between Scotland and England at Murrayfield on 17 March, 1990, was one such occasion.
It had everything. It was the Auld Enemy. The Calcutta Cup, Triple Crown, Five Nations title and the Grand Slam was at stake. Big enough. But this one came with something else...
The backdrop to the match was one of genuine fury in Scotland. Prime Minister Margaret Thatcher's government was using the Scots as Guinea pigs for her hated poll tax.
Some months before, England and Scotland football fans had clashed horrifically at Hampden Park, leading to the cancellation of the world's oldest fixture for years.
There was the perception - fair or unfair - of English arrogance. England's fans and even the players' wives had 'England - Grand Slam champions 1990' - printed, or so the story went.
Then there was the English team led by that most cock-sure of chaps, Will Carling, with stout yeoman of England up front led by Brian Moore. A huge, bullying pack, with the rapier thrust of Jerry Guscott, Rory Underwood and Captain Carling behind it - England, the pundits said, only had to turn up to win the match.
What followed went into Scottish sporting folklore.
England sprinted out on to the field pumped up, ready for battle. Where were the Scots? No sign. Then, some noise by the tunnel. Scotland's team, led by David Sole, walked out, slowly and purposefully. A deafening roar rocked Murrayfield. Some believe the game was won right there.
Then came the new anthem, Flower of Scotland - only the second time it had been sung at Murrayfield - and it was sung with an explosion of passion.
The game itself was ferocious, no-holds-barred stuff, Finlay Calder, John Jeffrey and Sole going toe-to-toe with the mighty England pack.
Craig Chalmers booted the Scots into a 9-4 half-time lead and then...
"Pick up by Jeffrey...Jeffrey to Armstrong...Armstrong nicely out to Gavin Hastings...Gavin Hastings goes for the kick through...on goes Stanger...Stanger could be there first...it's a try!...a magnificent try for the 21-year-old!"
It was all the late, great Bill McLaren could do to hold himself together - years before he had coached the youthful Tony Stanger.
White waves of English attackers hammered furiously at the Scottish line only to be repelled by desperate and bone-crunching defence. There was to be no way through today, and a solitary Rob Andrew penalty was all that England could muster.
Scotland won 13-7, England well and truly 'sent homewards, tae think again'.
1999 - Wales 32 England 31
For sheer Roy of the Rovers drama, Wembley 1999 takes some beating. For Roy, read Scott Gibbs.
Sir Clive Woodward famously said after the 32-31 defeat: "When I wake up in the morning, I still won't believe we lost this match."
His England team were on the verge of a Grand Slam, and only had to beat what, up to that day, had been a disappointing Wales team, who were playing their home games at Wembley whilst the Millennium Stadium was being built.
England's forward power and the deadly boot of a 19-year-old Jonny Wilkinson had seen off everyone else. The day before, though, Scotland beat France in Paris and a Wales victory would see them crowned champions of the last Five Nations. Italy were to join the party the following year. But no one in Scotland expected to have a hangover on Monday morning.
In the first half England were virtually unstoppable in attack. Dan Luger, Steve Hanley and Richard Hill all crossed the line.
But in defence, indiscipline was to be their scourge, and Neil Jenkins booted six penalties as Wales, despite rarely threatening a try, trailed just 25-18 at half-time.
Incredibly, Wales then levelled, Jenkins' miss-pass sending Shane Howarth over, but Wilkinson nervelessly nailed two more penalties to make it 31-25. Time was running out.
England's supporters prepared to party, but deep in injury time, Wales won a line-out. Lock Chris Wyatt tapped it back to Rob Howley, who spun a pass to his left to No 8 Scott Quinnell.
Quinnell almost spilled it, but held on and passed inside where 1997 Lions hero Gibbs collected it at full pelt, bursting past three Englishmen, with Tim Rodber - probably the greatest tackler in the world - unable to hold him.
On Gibbs sprinted on a long diagonal, past the flailing attempted tackle by Matt Dawson, past full-back Matt Perry and then, with a final flourish, stepping past Hanley to cross the line.
He saluted the incredulous Welsh hordes before touching down, leaving Jenkins to kick the extras - eight out of eight for the full-back.
Wales had won nothing but they had broken English hearts, at Wembley off all places, in the most astonishing fashion. Hundreds of miles to the north, Scotland had to unexpectedly and hastily organise one hell of a party.
2000 - Italy 34 Scotland 20
The Millennium tournament saw the introduction of Italy to the first ever Six Nations - and they got off to a sensational start, beating Scotland 34-20.
The critics said it would not work, that Italy were simply not up to standard. The previous year, in the World Cup, they had conceded 196 points, 103 of them against New Zealand, 67 to England, and Tonga beat them too.
And their first match would be against the defending champions Scotland. Everyone feared the worst.
Rome's Stadio Flamino was packed to the rafters for the historic occasion, with 8000 travelling Scots adding to the colour.
Fly-half Diego Dominguez, probably the smallest man in international rugby union at 5'8" and 11 stone wet through, was to be their titan.
Kenny Logan missed two simple penalties early on but Gregor Townsend broke the deadlock with a drop goal. But Dominguez scored Italy's first Six Nations points with two penalties.
The Scotland full-back Glen Metcalfe then burst clear, and as he was tackled his offload bounced off his foot and into the arms of Gordon Bullock, who rampaged over.
Logan slotted the conversion to make it 10-6 but deep in first-half injury time, Dominguez added two more penalties - 12-10 at the turn and the Italian fans were jubilant. At the very least, they were not going to be disgraced.
It soon got better - Dominguez began to turn the screw, booting two drops goals - 18-10, and two more penalties, Townsend replying with one. On 70 minutes the Argentina-born fly-half made it a hat-trick of drop goals and in the dying minutes Gianpiero de Carli scored Italy's first try to seal it, Martin Leslie's late five-pointer no consolation to Scotland.
The final whistle sparked an enormous party, the players weeping with joy as Dominguez was carried on the shoulders of the supporters, 29 points to his name.
Years later their captain that day, Massimo Giovanelli, reflected - in a way that probably only an Italian could...
"It was the most beautiful rugby day of my life. I felt like the captain of a great sailship who had spent his life navigating rough seas and surviving the tempests and feeling perhaps everybody has forgotten him.
"But then finally we arrived at the tranquillity of our home port, a great welcome and a great triumph. I get very emotional thinking about it still - and that's before even I consider the game itself."
2000 - France 25 Ireland 27
Ireland's victory in 2000 - their first in Paris in 28 years - was amongst the most dramatic ever seen in the Six Nations.
It had just about everything a classic match should have, but the odd thing about this one is that the man who held his nerve to kick the winning points in the dying moments, David Humphreys, is secondary to the story.
But for good reason. Because this is the match in which Brian O'Driscoll announced himself to the world with a stunning hat-trick.
He had made his international debut the year before, playing for Ireland before he had played for the senior Leinster team and he was still barely known outside of the Emerald Isle.
Ireland had been taken apart by England in their tournament opener, but bounced back with easy wins over Scotland and Italy.
History was very much against them in Paris and the French got off to a thunderous start, a stunning attack seeing David Bory go over in the corner, only for the try to be chalked off by the referee.
Gerard Merceron kicked two early penalties but O'Driscoll came to the party in the 15th minute by flattening Philippe Bernat-Salles with a bone-crunching tackle.
O'Driscoll then scored his first try, sniping over from close range, but the hosts hit back. The Irish defence switched off, allowing Christophe Laussucq to dive over from a tap penalty and Merceron added two more penalties.
Kieran Dawson was denied a certain try but an astonishing tackle by Fabien Pelous before the break. Merceron added another penalty after the break to stretch the lead to nine, and it would have been more but for a heroic last-ditch tackle by Denis Hickie on Marc del Maso.
Ronan O'Gara hit the bar with a long-range penalty but then Rob Henderson charged into the French defence and - with a superb reverse pass - put O'Driscoll over for his second.
Then, with six minutes left, the centre scooped up a loose ball, saw a gap and sprinted over for his hat-trick to cut the gap to two. Humphreys, who had replaced O'Gara, then won it with a 45m penalty with two minutes left to earn Ireland their first win in Paris since 1978.
2011 - Italy 22 France 21
Italy ended a long wait for their first Six Nations victory over France in dramatic fashion, courtesy of a sensational kick by Mirco Bergamasco.
It was Italy's greatest victory, not just in the tournament - ever. They had come close to beating Ireland earlier in the tournament, Ronan O'Gara's drop goal two minutes from time saving Brian O'Driscoll's men. And they had pushed Wales all the way too.
But they had been slaughtered by a rampant England at Twickenham, and no one gave them a chance against the French.
True to form, they trailed from the 14th minute of the game to the 74th, but this time they were to have the last laugh, winning 22-21.
Bergamasco - who is not even a specialist kicker - put the hosts in front with an early penalty but Vincent Clerc got the French up and running, kicking ahead and winning the chase with Gonzalo Canale to touch down.
Aurelien Rougerie almost extended the lead but lost control of the ball as he stretched over the line. But winger Bergamasco booted two penalties to Morgan Parra's one to keep the deficit to 8-6 at half-time.
Parra stretched the lead with a penalty and then added a try - sent over by Francois Trinh-Duc - and at 18-6 that seemed to be game over, particularly as Bergamasco missed a couple of kickable penalties.
But then came the Italian fightback, Andrea Masi giving them hope by touching down after superb work by Tomasso Benvenuti and scrum-half Fabio Semenzato. Bergamasco converted a beauty from the touchline and the Rome fans roared - this was on.
Bergamasco then clawed back another penalty to cut the gap to just two with 20 minutes left.
Parra nailed a three-pointer, but Bergamasco replied, and then, on 74, referee Bryce Lawrence blew up for another Italian penalty, wide on the left touchline.
Sergio Parisse pointed at the posts, and Italy's fans closed their eyes. Bergamasco - under the most intense pressure - lined the kick up, gave it an almighty wallop, and turned away jubilantly long before the ball sailed between the posts. He just knew he had hit it perfectly. Uproar.
The home fans then had to endure six tortuous minutes, with three re-set French scrums right in front of the posts. France hammered at the line, but could find no way through.
Italy held on, the greatest day in their rugby history.