Nick Easter says Billy Vunipola can become "absolutely world-class"
England No8 Billy Vunipola can become "absolutely world-class", according to Nick Easter.
Last Updated: 20/02/14 1:43pm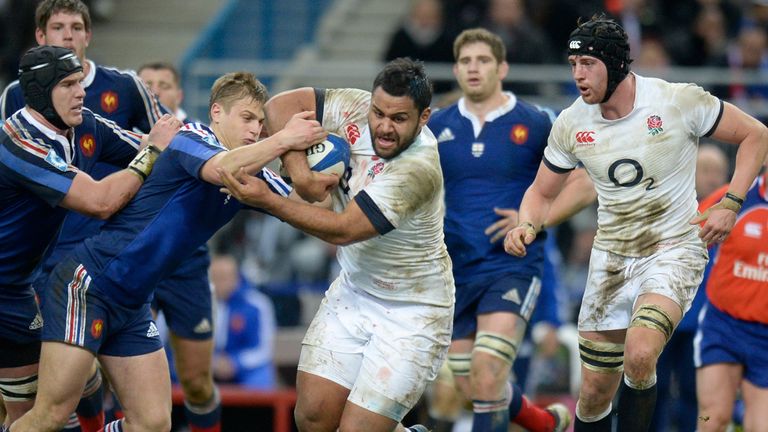 Easter insists the 21-year-old Saracens forward is on course to become "absolutely world-class" despite having made just seven appearances for his country.
Vunipola has been one of England's best players in their opening two Six Nations clashes with France and Scotland, with his ball carrying and offloading adding an extra dimension to their attacking game.
Opponents - starting with Ireland this weekend - will undoubtedly be devising strategies to shackle the rampaging back-rower. But Easter is convinced Vunipola has the athletic ability and game-changing skills to continue his meteoric rise.
"He has got the potential to go very far - to be absolutely world class," Easter told skysports.com. "It is his first season in the shirt, what will be interesting is to see what he brings when he is a marked man.
"Decent opposition, obviously, are not going to give him a free run all the time. He will probably become more of a marked man and it is how England utilise him and what aspects of his game he works on when that comes around.
"But at the moment - keep to what you are doing son. It is working for us and you are getting us on the front foot."
Easter was controversially dropped after the 2011 World Cup as England coach Stuart Lancaster chose to invest in the likes of Vunipola and Gloucester No 8 Ben Morgan ahead of the 2015 tournament.
While Morgan was initially chosen to fill the void left by Easter, Vunipola has since seized the shirt following a series of compelling performances following his international debut against Argentina in Salta last summer.
Another dimension
"It takes two or three people to take him down," Easter said. "He sucks in the defence and he has got some ball skills as well.
"You usually get those guys who can't keep the ball alive or release the ball out of the tackle but he has given them a dimension there that they have not had in the last couple of years. He has grabbed his chance and played well."
Vuniploa will again be a key figure for England when the take on Joe Schmidt's in-form Ireland at Twickenham this Saturday.
Ireland's forward pack was hugely impressive in their victory over Wales in Dublin, ruthless at the break down, solid at the set-piece and eventually mauling the Welsh into submission.
And Easter, a veteran of 47 matches for England, believes the outcome of the potentially decisive clash will be come down to the contest up front.
Decider
"It will solely be down to a forward battle," Easter said. "You have two backlines now with Ireland probably edging it on experience, but I like the look of England's backline now.
"You have two fly-halves [Jonny Sexton and Owen Farrell] that will put them in position, two scrum-halves [Conor Murray and Danny Care] in form, so it will be down who gives them that extra second, by which I mean who wins the game line.
"Ireland obviously scored three tries off their maul while England also have a strong maul. The set-piece will be vital along with the break down all around the park.
"It will be a cracking game if Ireland turn up, which they did not a few years ago. But they traditionally have always been a very tough opponent in recent years in the Six Nations. If they turn up, the weather is kind and England turn up, we will be in for a cracking game. It could possibly be the Six Nations decider."
Available
Easter, 35, continues to be one of the most influential No8s in the Aviva Premiership for Harlequins and remains available should Lancaster call on him - either through injuries to others or his own compelling form - ahead of next year's World Cup.
He still feels frustrated at not being involved in the current set-up and would relish the opportunity to play for England again.
"Every time I watch it I am itching to be out there, to be pulling on the white shirt and doing a job for my country," he said.
"I don't know how long that feeling will last. Whenever I watch it again it is quite tough. But people in life have it tougher so I am not going to bemoan it too much.
"I will be available because I will still be playing but it will be up to the powers that be I suppose."
Nick Easter was speaking at an Aviva Premiership Rugby Schools Programme event where kids had the chance to get closer to stars from the Aviva Premiership. Find out more at www.avivapremiershiprugby.com