Six Nations: Serge Betsen looks forward to the Six Nations clash between France and Wales
Serge Betsen says how France react to a Welsh onslaught in Cardiff will define their Six Nations.
Last Updated: 19/02/14 4:14pm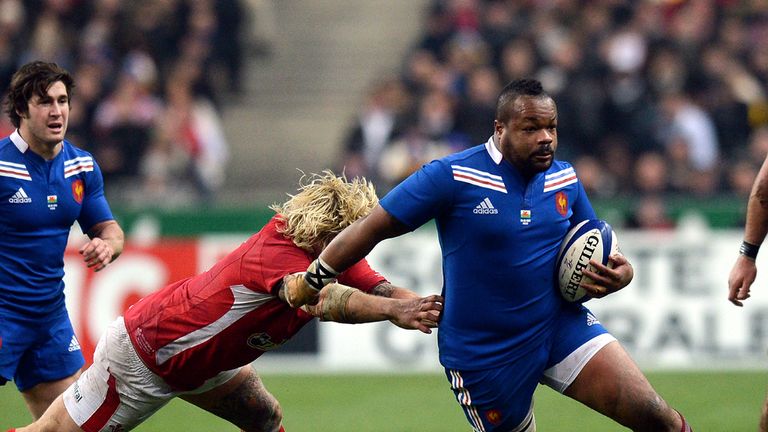 It is always so difficult to travel to Cardiff and play against Wales at the Millennium stadium. It's always a huge challenge with the Welsh supporters making so much noise and creating such a great atmosphere, especially when the roof is closed.
And it's on a Friday night - an unusually day for a Six Nations game - with a late kick off, which will bring other challenges for the traveling France team.
I don't know how they will deal with the late kick off but it is part of the game now and you have to really focus and concentrate for whenever the game is. The players should be able to handle it.
Wales have not started the Six Nations very well - may be they are tired from the Lions Tour - but France will face a team who are desperate to be successful.
I am really happy with the way France have played so far in this Six Nations. It is great to see them being opportunists and to see them being creative, and to see them playing with such pride in the shirt and with such intensity.
The key for France will be to take the initiative in the game. They must make sure that they do everything at 100 per cent with pace and speed, and to start as they did against England.
They have to play at a very high tempo with a lot of intensity because the Welsh team have a lot of ability. It will be crucial for France that they do everything with pace and that they are clinical.
One area France could have an edge in is the back row. They have great balance there in Yannick Nyanga, Louis Picamoles and the returning Wenceslas Lauret. Nyanga is an amazing player. We knew he was a good ball carrier but now he had added great defence to his game. Picamoles is a huge ball carrier and Lauret is very powerful. This is a great, great French back row.
Immense
Lauret will bring a lot of power and he can add extra ball-carrying potential to the France back row. I hope he can link the forwards and backs, which has been part of his game when he has played for France. He is also great in defence.
Another standout contest is George North against Mathieu Bastareaud in the centres - that will be a great match up. The physicality of both those players is immense. It will be very interesting to see how the coaches use those players to create the mismatches and create uncertainty in the opposition's defence.
It will be a big challenge for the French team this Friday and a critical game for their Six Nations hopes. It's massive. I am confident France can face the challenge and win in Cardiff.
Then let's talk about Grand Slams and winning the tournament afterwards.
Legends
On Saturday I am playing in a French legends team against the Welsh legends at Cardiff Arms Park and really looking forwards to playing former opponents like Gareth Thomas. He is an old mate and I remember playing against him in 2007 in Cardiff when I was the French captain and he was the Welsh captain. It will be great to play against him again.
We will see on Saturday how good my fitness is. The most important thing, though, is knowing that we are playing for the Prince's Trust Charity and the idea is to raise as much as we can for them. It will be great to see some old mates again and play again. The shape and the skills will come second, but it is always tough on the pitch because we all still have that competitive mindset . I hope a lot of people will come to support us and help raise a lot of funds.
Watch Serge Betsen leading out the French Legends against their Welsh counterparts in Cardiff, Saturday 22nd of Feb. Click here for tickets: www.welshfrenchlegends.co.uk