Scotland need to find some real passion against Italy, says Scott Hastings
Scott Hastings says it is time Scotland step up and play with a bit of passion and dynamism.
By Scott astings
Last Updated: 21/02/14 11:57am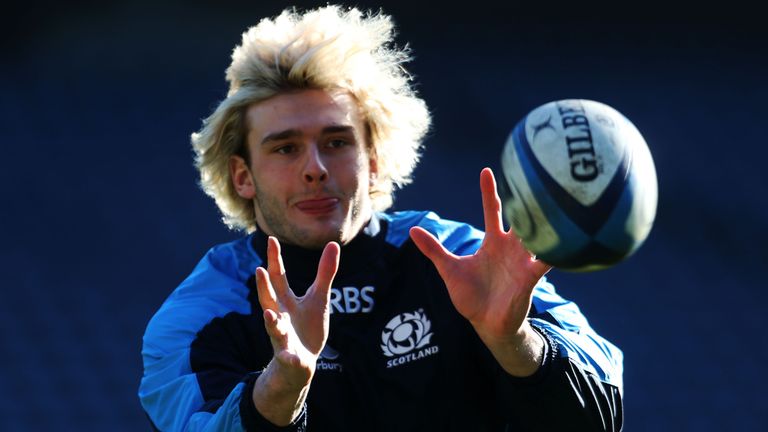 Neither Scotland nor Italy have won a match in this season's campaign, but while Scotland's performances have received nothing but criticism, Italy have been impressive in their defeats.
Much of the criticism has been aimed at Scotland coach Scott Johnson, who dropped captain Kelly Brown after the loss to Ireland and has now dropped David Denton to the bench with Johnnie Beattie coming in at No.8.
And while former Scotland star Scott Hastings is a bit bemused by the selections, he says Johnson could be looking at other areas to improve.
"Scott Johnson has come in for more criticism for benching David Denton for this crucial game," said Hasting on skysports.com
"Denton was one of the few players who carried really well against England and I am surprised he is not starting. Denton in his two starts, has made 25 carriers and made 80 metres - that is 20 more metres than all other forwards combined! So to drop him on the bench seems a bit bizarre.
"However the fact that Scotland missed 27 tackles and their lineout success rate was only 58% means that perhaps Johnson is looking at shoring up other areas. When you are losing possession like that in international rugby then it is almost impossible to compete.
"In fact there have been some quite revealing stats. Scotland entered England's 22 just 3% of the match! If you are not going to get into the red zone and score points then what is the point of playing the game?"
Hastings, who played 64 times for Scotland, says that it is time for the players to step up and show some pride in the jersey and wants to see some of the senior players taking control of the game.
"There has to be great heart from the Scotland players because basically what I saw against England was more suited for running through routines on the warm-up pitches. There was no dynamism whatsoever," said Hastings.
"Ross Ford has been dropped and we want to see a much cleaner lineout from Scott Lawson - he really brought some impact when he came off the bench.
"It is the individual and the team performance that Scotland have to improve on. The senior players really need to gather the troops and fire them up. I have not seen the senior player dictate a game.
"I want to see the likes of Richie Gray and Scott Lawson dictating and dominating the lineout, Johnnie Beattie dominating the breakdown and the collision. The scrum, as a unit, has to understand that when they engage they are solid as a rock.
"What I want to see from Scotland is a game plan that the players can latch on to. They need to get parity upfront and get some field position from where they can score some points.
"Whether those points will come from penalties or drop goals I don't know - at the moment they look really rudderless and whether they have enough threat in the backs to score tries remains to be seen."
Parity upfront
Scotland's forwards will really need to be at their best against a very competitive Azzurri pack and while Italy have embraced a more expansive game, Hastings will not be surprised if they go back to their traditional forward based game on Saturday.
"The real threat from Italy is going to be their pack; their forwards love to carry the ball and their captain Sergio Parisse is a master of that," said Hastings.
"They have been playing a wider game too which has suited them - we were all impressed with their performance against Wales and their does seem to be a real belief.
"However they will really be targeting a win against Scotland and I think they will do anything to get it. So perhaps they won't play as wide and as open as they have been playing.
"Every Scotland player has a responsibility now and it is up to the individuals to deliver a team performance. We need to get behind the team but they need to give us some belief to get behind too. Performance is key!"